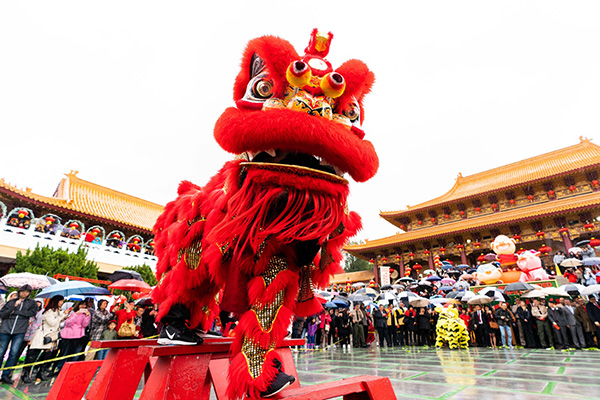 People watch lion dance on the first day of the Chinese Lunar New Year at the Hsi Lai Temple in Los Angeles County, the United States, on Feb 5, 2019. [Photo/Xinhua]
"It is amazing and exciting. I have never seen it before," Rhonda McDonald, who came from the U.S. city of Houston to attend the celebration, told Xinhua, "I love Chinese food and Chinese culture. Every year, my kids and I celebrate the Chinese New Year."
In San Francisco, Mayor London Breed, dressed in red that represents happiness and good luck in Chinese culture, on Tuesday launched official celebrations of Chinese New Year in the city's Chinatown.
Among the crowd, a 15-year-old high school student named Logan said he was happy to be a part of the exciting celebrations, and he came for the event every year.
"Each new year is different, and I can always feel something new from the thrilling festivities," Logan said.
Breed said that there will be a market fair this week in Chinatown, where one can find flowers and goodies, such as red packets for kids and oranges which in Chinese are a popular symbol for "good luck." She will also attend San Francisco's grand Chinese New Year Parade scheduled for Feb 23, a Chinatown tradition that dates back to the 1860s.
The parade will feature beautiful floats, outfits, costumes, firecrackers, newly crowned Miss Chinatown U.S.A, as well as the dance performance of an 88-meter-long golden dragon operated by 180 men and women from a local martial arts group.
The Niagara Falls on Canada side was lit up in red to celebrate the Chinese New Year in Ontario, Canada on Tuesday. On the night of Jan 28, the CN Tower in Toronto was lit up in red to celebrate the Chinese New Year, the fifth consecutive year to do so.