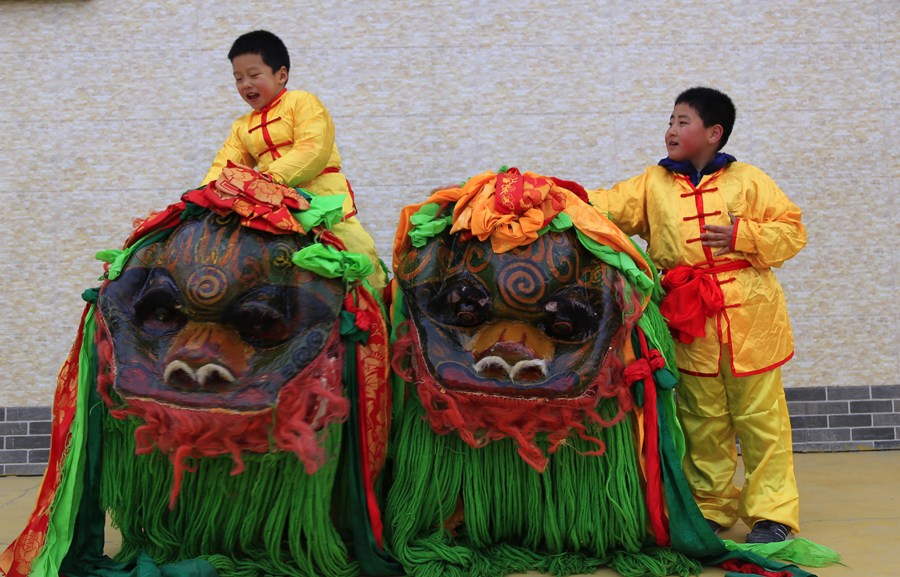 Children from the Wang's Lion Dance troupe play with lion's heads prepared for a performance in Honghai village, Wuzhong, in the Ningxia Hui autonomous region. [Photo by Wang Ning/for China Daily]
Two brightly colored lions prance in, blinking their formidable eyes and deftly hopping onto poles to the lively beating of drums and ringing of bells.
Tapped on the head, one lion jumps up into the air, rolls over and lands on two pole tops, each action cheered by the audience.
Tumbling and prancing, the two lions grow fiercer with the bursts of applause. Another performer, wielding a martial arts staff, joins in as the performance by the Wang's Lion Dance troupe continues.
In Honghai village, in the Hongsibao district of Wuzhong, in northwestern China's Ningxia Hui autonomous region, the Wang family's lion dance techniques, passed down through the generations, are recognized as the best in the region and surrounding areas.
Traditionally viewed as a way of preventing disasters and seeking good luck, lion dances are performed widely in China and elsewhere in Asia, especially during special occasions such as festivals and grand events.
Two performers mimic a lion's movements in a lion costume-one holding the head, another the tail.
There are southern and northern styles of lion dance in China, varying in costumes, decoration and moves, with more martial arts element featured in the northern form.
Wang Lin, 55, is the fifth successor of the family's lion dance. Its techniques have been passed down for over 100 years, beginning with his great-great-grandfather, Wang Baocang, late in the Qing Dynasty (1644-1911).
When he was a child, Wang Lin started to practice lion dance under the guidance of his father, Wang Hanzhang, and his grandfather.
"At that time, the elders were very strict and I would get punished unless my practice went well," he said.
When the family moved to Hongsibao district in 2004, Wang Lin and Wang Hanzhang tried to rekindle the family tradition by buying new equipment and costumes and organizing children in the family and the neighborhood to practice lion dance.
Wang Lin's three children still recall those workouts, when they practiced basic skills and various moves all day long. The soreness in their muscles not only honed their skills, but also ingrained lion dance into their lives.
Because the Wangs' Lion Dance follows the northern tradition, performers should not only master various moves, but also martial arts weapons such as swords, spears and halberds.
There are no shortcuts for northern-style practitioners.