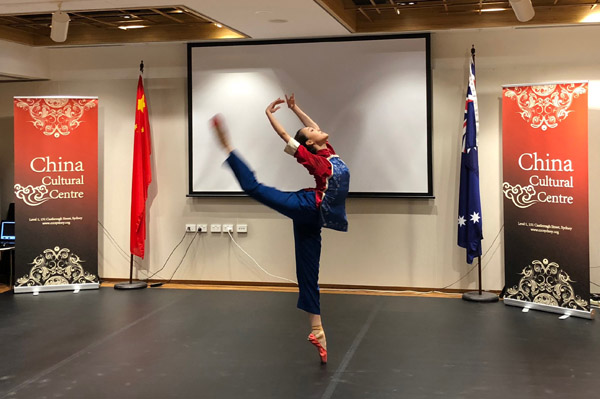 A Chinese ballet dancer performs at the China Cultural Center in Paris on Sept 5, 2018. [Photo/Chinaculture.org]
A ballet-themed photo exhibition underway at the China Cultural Center in Paris highlights the development of Chinese ballet.
The exhibition Ballet in China - 60 Years of Inheritance and Development of National Ballet of China traces the growth of the Western dance art form in China through more than 170 pictures, together with costumes and video displays of classical ballet pieces.
Chen Shuang, director of the cultural center, said since the establishment of the National Ballet of China in 1959, the dance troupe has been making every effort to explore a unique path for Chinese ballet and produced a large number of classical and folk ballet works.
"The Chinese ballet has grown from reproducing foreign classics to creating original Chinese ones," Chen said, citing Swan Lake and original piece The Red Detachment of Women as examples. He said he believes the exhibition will offer a deeper understanding of Chinese ballet's integration of Eastern and Western arts.
The exhibition is co-organized by the Chinese culture center, the Network of International Culturalink Entities and the National Ballet of China. It runs through Oct 13.