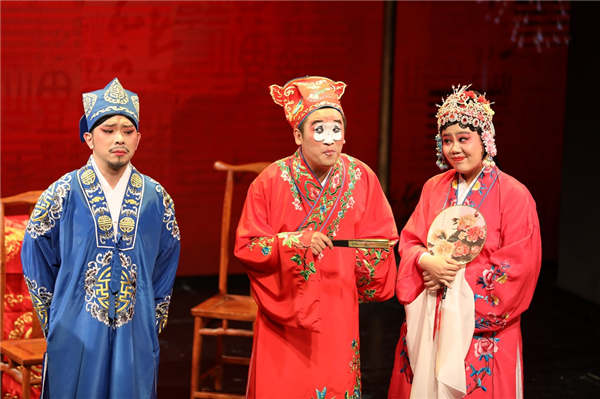 Beijing will present 16 shows featuring various genres from home and abroad, such as qinqiang opera, Peking Opera and stage drama, across the city during its upcoming comedy week from Sept 10 to 28. [Photo provided to China Daily]
The upcoming Beijing Comedy Week will bring together young Chinese comedians in 16 shows across the city from Sept 10 to 28.
Initiated by the Beijing Federation of Literary and Art Circles and held by the Beijing Theater Association, the festival made its debut in the Chinese capital last year.
Sing the Qinqiang Opera, a comedy production by Xi'an Theater, will open this year's Beijing Comedy Week with two performances.
Featuring young actors from the theater, the show tells the story of a veteran qinqiang opera performer who leaves his troupe to start his own business. However, he soon finds out that he can do nothing but perform qinqiang.
Qinqiang opera, often described as China's "ancient rock", is known for its intense beats and high-pitched singing style. It started in the Qin Dynasty (221-206 BC) and thrived during the reign of Emperor Qianlong (1711-99) in the Qing Dynasty (1644-1911). In 2006, qinqiang was added to the country's list of intangible cultural heritage.
According to Ren Xueying, director of Xi'an Theater, the comedy premiered in Xi'an in early September before arriving in Beijing. Written by Wang Baoshe, the show features young actors from the theater who perform qinqiang opera, combining the ancient art form with contemporary theater.
Like Sing the Qinqiang Opera, another two shows also turn traditional Peking Opera pieces into comedies.
The Phoenix Returns Home, a classic Peking Opera piece once performed by Peking Opera master Mei Lanfang (1894-1961), is a tale of love and mistaken identity which takes place during the Ming Dynasty (1368-1644). Directed by actor-turned-director Yun Feng, it is played by young Chinese actors, including Jiang Zeyang, who graduated from the Central Academy of Drama, and Bi Jiao, who graduated from Inner Mongolia Arts University.
Peking Opera actor Jiao Jingge, who is a teacher at the National Academy of Chinese Theatre Arts, will also showcase his adaptation of the Chinese classic comedy The Slave to the Treasures He Guards by Yuan Dynasty (1271-1368) scriptwriter Zheng Tingyu. The show, which premiered last year in Beijing, gathers students and teachers from the National Academy of Chinese Theatre Arts.
Besides traditional Chinese stories, comedies by William Shakespeare will also feature during the Comedy Week.
A Midsummer Night's Dream by stage director Chris White, who is an associate for the Royal Shakespeare Company, will be performed by the NCPA Drama Ensemble, a two-year-old ensemble under the National Center for the Performing Arts that is headed by veteran Chinese actor Pu Cunxin.
"This event offers a platform for young Chinese artists. They are of a similar age as their main audiences," says Gang Jie, deputy secretary of the Beijing Federation of Literary and Art Circles. "They communicate through comedy, a fun but challenging art form."
In addition to comedic acts from local outfits, Beijing Comedy Week will also feature a comedy forum and performances by international groups, including the UK hit productions Stomp and The Government Inspector by The Comedy Theatre from Bucharest, which is based on the satirical play of the same title by the Russian and Ukrainian dramatist and novelist Nikolai Gogol.