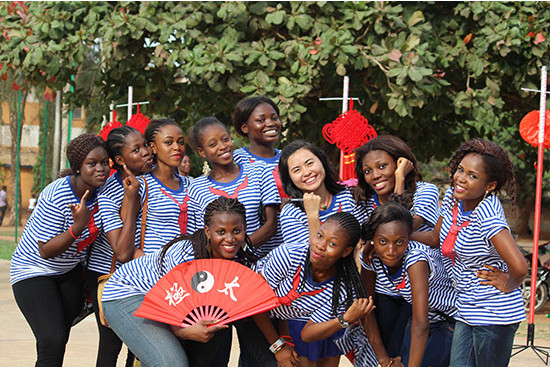 A file photo of studengs in the Confucius Institute of Abomey Calavi University.
The University of Abomey-calavi on Saturday afternoon hosted second annual Global Confucius Institutes Day aims to promote the Chinese language and culture.
Students from the Confucius Institute of Abomey Calavi University, Chinese culture lovers, officials of the Chinese Cultural Center in Cotonou and academic authorities of Benin universities were on the forefront of spectators to cultural and artistic events that occurred as part of the celebration.
For over three hours, students of the Confucius Institute performed music, traditional Chinese dance and martial art demonstration.
Prof Maxime da Cruz, deputy-rector in charge of Abomey Calavi University Academic Affairs hailed the quality of Chinese language education provided.
"The good performance of students of Abomey Calavi Confucius Institute demonstrates not only the quality of education provided but also the commitment of students to assimilate Chinese culture," he said.
According to Dr. Julien Segbo, principal of the Confucius Institute, 493 Confucius Institutes and over 900 classes in 133 countries around the world celebrate this second edition of Global Confucius Institutes Day.
In Benin, the Confucius Institute has developed since its establishment in 2009, counting nowadays 21 teachers comprising 13 Chinese and 8 Benin natives. It registers more than 3000 students apportioned in nine lesson locations.