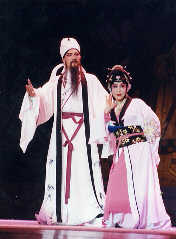 The Hebei Bangzi Opera Theatre of Hebei Province was established in 1959. Its first president and vice-president were masters Xun Huisheng and Li Guichun respectively. The current theater president is Li Jiansuo. The The Hebei Bangzi Opera Theater is comprised of five branches, including the No 1 Troupe, Youth Troupe, Xiaobailing Troupe, Filmmaking Department and Hebei Theatre.
Since its inception, the theater has trained a group of outstanding artistic personnel, many of whom are renowned artists of the senior generation; some have won Plum Blossom Awards for Chinese plays, such as Pei Yanling, Zhong Huiyun, Peng Huiheng, Xu Heying and Wang Hongling; and others are young new opera stars. All of the members contribute to the troupe's high reputation.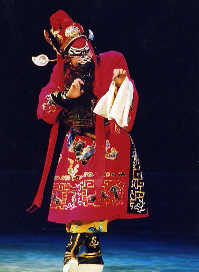 Hebei Bangzi Theater of Hebei Province has more than 100 high-rated plays. A number of them have been adapted into films and TV plays, such as "The LotusLantern," "Ne Zha," "Zhong Kui" and "Stopping the Horse", winning high admiration and praise. In the past 20 years, the theater has paid tour performances to a number of countries, including Japan, Singapore, France, Italy, Colombia, Greece, Cyprus and Spain, and has received accolades from abroad.
Since 2000, the theater has created a number of new plays like "Hua Mulan," "Antigone," "Ah Q's Biography," "Jiangjie," "Meeting Enemy in the Hell," "Famous Actor in Dadu," and "Girl Washing Gauze" -- all of them tailored for domestic- and foreign-performance markets. The Film and TV Play-Making Department has made one film and seven TV series, becoming well known throughout the country.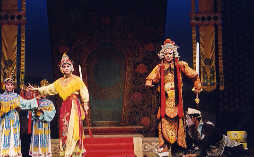 With its special artistic style and local cultural characteristics, "Zhong Kui" was chosen for the primary election of the "National Stagecraft Treasures Project" by the Ministry of Culture and Ministry of Finance.
The theater is looking forward to cooperating with performance companies and brokerages both at home and abroad.
Website:   www.hebopera.com
Address: No. 52, South Jianshe Street, Shijiazhuang City, Hebei Province
Post code: 050011
Tel: 0311-85259825
Fax: 0311-86986043