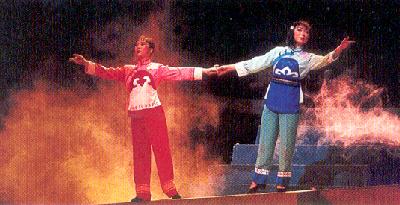 Qianju Opera Troupe of Guizhou Province
The Qianju Opera Troupe of Guizhou Province is a new local opera popular among the people of Guizhou, based on Guizhou Yangqin (a dulcimer) performance with performer sitting and singing according to different roles. In 1953, the amateurs in Qianxi County staged firstly Qianju Folk drama that is called Wen-qin opera and in August 1960 the Qianju Opera Troupe of Guizhou Province was founded.
Since founding, the Troupe has staged Beauty Qin, Madame Fragrance, Full Moon, Sisters' Cliff, Pearl Pagoda and etc. Among them, the Beauty Qin was made into a film by the Haiyan Film Studio in Shanghai and was distributed abroad. Madame Fragrance was performed in Beijing as a tribute to the 30thanniversary of the founding of the People's Republic of China and won the first prize both for best creative work and performance awarded by the Ministry of Culture at a national local opera Zhou Xiuzhong.
Address: No.114, Rui Jin Nan Road, Guiyang, Guizhou Province
Post code: 550003
Tel: (0851) 5812028