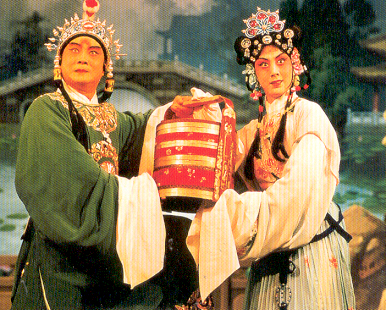 Shanghai Peking Opera Theatre
The Shanghai Peking Opera Theatre was founded in March 1955, with Peking Opera Master Zhou Xinfang as its first president.
In the forty odd years since its founding, the Theatre has produced and performed hundreds of high quality traditional plays, myth plays, historical plays and modern plays. They include "Song Shijie", "Oath of Alliance in Chanyuan", "Hai Rui Submits a Memorial to The Throne", "Li Kui, the Black Whirlwind", "Red Storm", "Imperial Concubine Mei", "Wang Xifeng's Farce in Ningguo Mansion", "The Lucky Marriage of Hongbi", Taking the Tiger Mountain by Strategy", "Sea Port", "Ode to the Dragon River", "Wedding before the Guillotine", "Story of the Han Dynasty", "Tan Sitong", "Qing wen", "Tale of the White snake", "Mistress's Hatred", "Qian Long's Trip to South China", "The Tale of Sinful Fate", "Cao Cao and Yangxiu", "Legend of Pan Yueqiao", "Spider Cave", "Hu Sanniang and Wang Ying", "Replacement of prince with cat", "Dream of King Qi", "Fifteen Guan and "Magic Lotus Lantern".
The Theatre has paid performing visits to more than 20 countries and regions including Japan, the United States, the former Soviet Union, Britain, France, Germany, Austria, Thailand, Singapore as well as Hong Kong and Taiwan regions and has won high praise home and abroad.
Now the most representative artists of the Theatre are Shang Changrong, Li Bingshu, Xia Huihua, Fang Xiaoya, Chen Shaoyun and Shi Min.
Website:  www.pekingopera.sh.cn
Address: No.168, YueYang Road, Shanghai
Post code: 200031
Tel: (021)  64745000
Fax: (021) 64333836