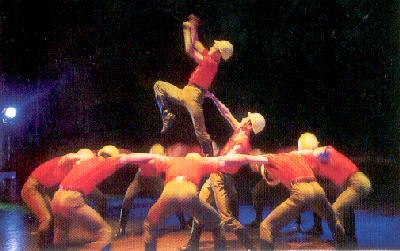 Art Troupe of the Political Department of the Second Artillery
The Art Troupe of the Political Department of the second Artillery was founded in July 1966, formerly known as the Political Department Art Troupe of Public Security Troops.
Since its founding, the troupe has produced a large number of programs reflecting the spirit of our times. Among them are dramas Before the Storm Comes and General Zhu De; large-scale song and dance performances Song of Long Sword, Handshake across the Ocean, The National will Not Forget, The Party Flag and Inigrnia, Life of Rocket Soldiers; chorus Suite of Chairman Mao's poetry, Hand-bond 6th Company, and Songs at the Missile Launching Site; songs Galloping through the Steppe, Dream of Rocket Soldiers, Song of Rocket Soldiers, Ode to the Sword, Marching Forward, Have You Been to That Place, At the Top of the Mountain, The Dear Party, Please Listen to My Song and A Happy  Village; dances Weaving Girl, Tunnel Filled with Excitement, Autumn, climbing Mountain, Spring Has Come to the World, Big Yangge Dance and Going to Work; Banhu tunes The Red Army Is Back, Embroider the GoldChacterand The Red Sun of the Border Region; Erhu tunes Galloping Battle Steed, Missile Launching Site and Melody of Northern Shanxi; the story-telling in Shandong dialect 3rd Platoon Leader; cross-talks Huanshan Heroes, Making a Complaint, Song of Morale, and National Treasure"; rhymed story telling Sight City Seeing and Dragon Caprice and one-act plays Good News and A Soldier Staying behind. The troupe has toured one dozen countries in Latin America, Europe and Asia as well as Hong Kong and Macao regions. In September 1995, artists of the troupe formed The Great Wall Art Troupe, and attended the performance celebrating the national day. In January 1999, they formed the PLA Art Troupe and visited Laos.
The troupe has many influential artists such as Banhu player Zhang Changcheng; Erhu players Chen Yiaoxing and Zhang Xiaozhao; double pipe player Li Xinchen; Suona player Zang Rong; playwrights Chen Feng, Han Lang, Xu Xiaofan, Song Jianmin and Xing Ru; composers Chu Xingyuan, Yao Henling, Chen Chunguang and Chen Yongxin; choreographers Guan Li, Wu Yuqin, Ba Gen, Deng Ruibin and Yu Dang; cross-talks performers Jia Jiguang, Wei Lanzhu, Zhang Jinhua, Jiang Zhongshi and Liu Guojian; comedians Pan Changiang and Man Hongmei; singer Li Danyang, Zhang Huamin, Zhao Xin, Liu Jiangchu, Tian Meirong, Gens Weihua, Zhang Jingchun, Zhang Longying, Su Yala and Zhang Xiaofen; dancers Hong Qibin, Wang Yan, Huang Ying, Meng Ke, Tao lei, Huang Wenli, Li Qian, He Jun and Zhao Ke.
Address: Haidian District, Beijing
Post code: 100085
Tel: (010) 6633824O
Fax: (010) 66338229