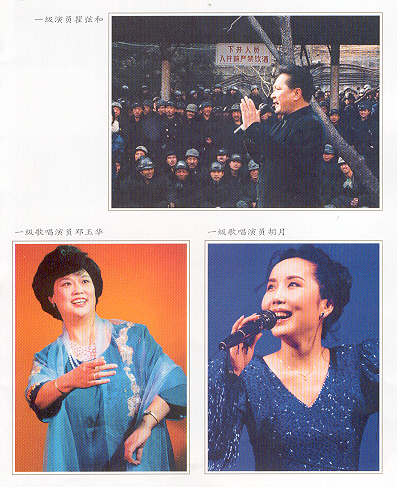 Chinese Coal Mine Art Troupe
The Chinese Coal Mine Art Troupe was set up in 1954 as the Northeast Workers' School Art Troupe (1947) and was later merged with the North China Coal Mine Art Troupe in Beijing.
The representative repertoire of the Troupe includes song and dance poetic play: Sunrise Impression; modern dramas Men Are Different, Special Journalist, King Zhao Wuling, General Ye Ting in Southern Anhui Incident, A Dream of Midsummer Night, Women of Troy and Mountain Giant; Radio play: Colliery Sonata; dances: Latin group dance, Oil worker, in Snowstorm, Yang Ge Dance of Haiyang and Happy Miners. The troupe has paid visits to the USA, Canada, Japan, DPR Korea, Poland, Bulgaria, Romania, Thailand, Singapore, Greece, Cyprus, Italy, Spain, Malaysia, Russia, RO Korea, Tunisia, Algeria, Morocco, Egypt, Pakistan as well as Hong Kong, Macao and Taiwan regions.
The Troupe has more than thirty 1stgrade artists; they are Deng Yuhua, Liu Junxia, Shi Xiaojie, Ding Guangquan, Wang Qianxiang, Li Zengrui Hu Yue, Wang Fulin, He Wenyi, Zhou Mingzu, Cao Yong, Hu Yange, He Leiyu and etc.
Website:  www.ccmat.cn
Address: No. 23, Qingniangou, Hepingli West Street, Chaoyang District, Beijing
Post code: 100013
Tel: (010) 84276855    84277998    84277996
Fax: (010) 84276855