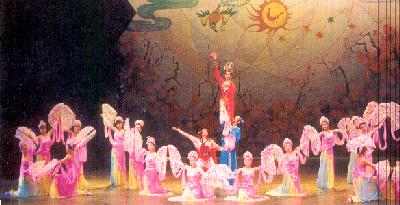 Art Troupe of All-China Federation of Trade Unions
The Troupe was formed in 1948. Over the past 50 years, so many works have been created such as dance drama Seizing a Wife and Liu Hai Plays with a Golden Frog, dances New Products, Loving and Textile Women Workers. They have also rehearsed dance drama Little Sister Heroines in the Grassland, songs Our Club, I Haven't Been There for Ages, The Mine in Its Most Beautiful Times, The Girl Who Manipulated An Overhead Traveling Crane and Attraction of Three Gorges on the Yangtze River; modern dramas An Old Couple, Flying Wing to Wing and other excellent plays. Since 1980, the Troupe has created modern dramas The Song of Cowherd, The Negation of Negation, The Story of a Careless Man, A Rainy Pass and We Have No Idea of First Love; evening entertainment Concert in the Dragon Year, My Family, Music and Dance of China and Marching On the Broad, Three Holy Mothers. All of those brought about a good influence in the society. The Art Troupe has visited France, Germany, Brazil, Sri Lanka, Singapore, Japan, America as well as Hong Kong and Macao regions for performance and exchange of culture and introducing the national culture and promoting the friendship among peoples in the world.
The Troupe possesses the artists of the older generation: Gao Yingpei, Fang Zhenyu, Mao Di, Dong Qing, Wang Jifu, Mu Sheng, Sun Baogui, Wang Shuren and well-known young artists Ge You, Su Hong, Zheng Yong, Zhan Yongming and Sun Chuan.
Website:   www.acftu-at.com
Address: N0. 6, Xiaobadaowan, Gulou West Avenue, Beijing
Post code: 100009
Tel:  (010) 64041487    84022770
Fax: (010) 64041487