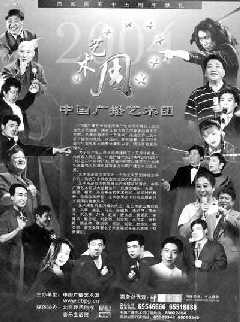 Under the State Administration of Radio, Film and Television, the Broadcasting Performing Arts Troupe boasts a number of famous artists loved by the masses. Fifty-five years after its establishment, the troupe has toured some 50 countries and regions, winning international fame. The troupe has merged with the China Film Orchestra in November 2003 and, as a result, its casting has been significantly strengthened since.
The troupe was established in 1953 with the China Broadcasting Philharmonic Orchestra, China Broadcasting National Orchestra, China Broadcasting Chorus, China Broadcasting Folk Art Company and the China Broadcasting Electric-Sound Music Company as its subordinates. Over the past 50 years, many high-quality plays have been produced for TV Broadcasting and Film programmes and the ensemble often gave tour performances with a wide and lasting influence. The troupe has taken an active role in international cultural exchange: Its artists have visited more than 30 countries around the world and obtained many top prizes due to their superb performance skills in international competitions. The Broadcasting Philharmonic Orchestra has toured seven European countries in 1988, during which time it gave a very successful performance at the Golden Hall in Vienna, Austria. The Broadcasting Chorus has always been valued both at home and abroad. It won three gold and one silver medal at the Fifth International Chorus Festival in Japan.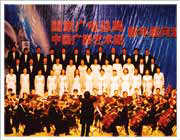 The Broadcasting Folk Arts Company and Electric-sound Music Company have accumulated many renowned and talented artists such asMa Ji, Tang Jiezhong, Guo Quanbao, Hao Aimin, Zhao LianJia, Ma Zenghui, Liu Huiqin,Jiang Kun, Feng Gong, Chen Peisi, Zhu Shimao, Li Jindou, Zhao Yan, Liu Wei, Yang Lei, Niu Zhenhua, Bai Hua, Deng Xiaolin, Yin Xiumei, Wang Fuli, Wei Jindong, Tu Honggang, Wu Qiong, Niu Xiulan, Si Yujie, Liu Bin and Zhu Sha, who frequently appear both on stage and on the screen.
Website:  www.cbpg.cn
Address: No 2, Fuxingmen Wai Street, Beijing
Postal code: l00866
Tel: (010) 66092785
Fax: (010) 68022854