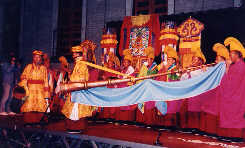 About 1,500 years ago, the most religious emperor in Chinese history, Liang Wudi, created Chinese Buddhist music represented by "Shuilufahui". Buddhist music has since been an integral part of traditional Chinese music.
The Labrang Monastery, located in the northwest of Xiahe County, Gansu Province, was founded in 1709 by Washu Nyawang Tsendu, the first Jamyang Lama. The Labrang Monastery is among the six major Gelupa (Yellow Sect) monasteries in China. Buddhist music has been inherited at the Labrang Monastery with a history of more than 300 years.
The music troupe of Labrang Temple is actually a palace troupe. The major task of the troupe is to play music for important religious activities or to accompany the Tibetan Opera during important occasions. The troupe has become a "living fossil" of Tibetan music and is of very high value to researching Chinese Buddhist music. Its members are mainly young lamas. Besides its performances in major cultural and tourist activities in China, the troupe has also successfully staged performances in France, the United Kingdom and Belgium.
Tel: 0931-8822726
Fax: 0931-8822726