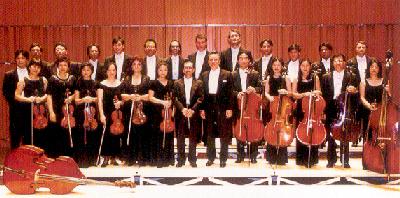 Macao Chamber Orchestra
Macao Chamber Orchestra under Culture Institute of Macao was founded in 1983 by Padre Aureo de Castro fo St. Pious X Academy of Music and a group of amateur music lovers. Beginning from 1984, Macao Chamber Orchestra has been under the leadership of Macao Culture Institute; the musical director and conductor was Stiart Bonner (1983-84), Doming Lam (1984-89) and Veiga Jardim (1989-95). For the past 16 years, the orchestra played one of the important roles in the musical-cultural life in Macao.
In order to provide a more extensive repertoire of music for Macao audience, the orchestra co-operated with the musicians from Hong Kong and Chinese hinterland to play symphonic and choral―symphonic works. In the 3rd Macao International Music Festival together with Gulbenkian Choir, Macao Chamber Orchestra interpreted Rossini's State Mater successfully and Macao Chamber Orchestra has been performing regularly in every year in Macao International Music Festival.
The orchestra has co-operated with many world-famous soloists, including Peter Schreier, Cristina Ortiz, Lung Yu, Yang Jie, Jiang Yong, Sequeira Costa, Jennifer Smith, Monique Duphil, Lim Kek Beng, Yu Lina, Jiang Yong, Wong Anyuan and Dagoberto Lingare. After the reorganization in 1995, Macao Chamber Orchestra became a steady ad the only professional orchestra in Macao. From Nov. 1995 and on Yuen Fang is the musical director and conductor of Macao Chamber. In Oct. 1997, Macao Chamber Orchestra took part in the 5th Chinese Arts Festival in Chengdu and gave two concerts. In June 1999, the orchestra toured Portugal and Spain and gave 8 concerts in 5 cities. Beginning from March 1998, apart from its monthly concerts, the orchestra plays regularly in St. Domingos Church every last Saturday evening on a monthly basis.
To cultivate the local students' interest in music and uplift their musicality, and to promote the development of Macao's musical culture, Macao Chamber Orchestra holds regular campus concerts in many schools, and effective results were achieved in popularizing and promoting music.
Musical Director and Conductor: Yang Fang
Assistant director: Henrique Pioto
First violins: Albert Kliment, Zakhrakhanum Koulieva, Wong Ka, Jian Qin, Huang Xiaoxia, Nikola Vasiljev, Wang Lan
Secondary violins: Carlos Camas, Chen Xinzhi, Huang Lei, Che Wai Lam, Chen Xiu Zhen, Zhao Hong
Viola: Su Jia Jun, Hu Peng Ling, Ciprian Dibore Lai Ka Lun
Ciola: Zhou You, Jian Hong, Kuong Pou Lei, Liang Wen Yu
Oboe: Yau Ka Kei, Gigi Yip
Trumper: Fong Man Lung, Shirley Ng
Address: Xinan Garden, 87-U Friendship Road, Macao (Culture Administration of Macao)
Tel: (00853) 700391
Fax: (00853) 700450