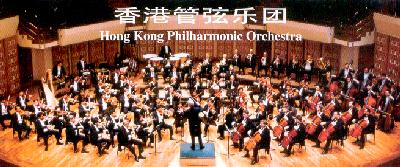 Hong Kong Philharmonic Orchestra
The Hong Kong Philharmonic Orchestra, subsidized by the Provisional urban council, was founded in August 1973. Its previous music directors include Lin Kechang, Hans Gunter Hommer, Dong Lin and Kenneth Schermenhonn. Its current music director is David Atherton.
The Orchestra is the only professional symphony orchestra in Hong Kong giving over 100concerts every year and attracting an audience of over 150,000 people. In each season, the orchestra offers over 10 free concerts for students and over 40 free visits to primary, secondary schools and schools for the mentally handicapped as well as 30 free concerts at hospitals.
The Orchestra also serves as a cultural ambassador for Hong Kong. It has toured countries like Singapore, Thailand, R.O. Korea and Japan as well as Taiwan region. It also participated in the prestigious Osaka Festival in 1983 and the Macao International Festival. The Orchestra made its first tour of here major cities in the People's Republic of China in 1986. The Ministry of Culture invited the orchestra to Beijing again in 1994. The Orchestra made its highly successful North American debut in September 1995, performing in 9 cities in the USA and Canada. The Orchstra made another popular tour to Beijing and Shanghai in May 1997 and was warmly feceived by music lovers in the two cities. In May 1999, it again toured Singapore.
Under the baton of David Atherton, the orchestra made two recordings in the 97/98 season. Its recording of Tan Dun's Symphony 1997 was released worldwide in July 1997.
Major musicians of the orchestra include music director David Atherton, resident conductor Yip Wing-site and resident composer Chen Weiguang.
Website:  www.hkpo.com
Address: Level 8, Administration Building, Hong Kong Cultural Centre, Tsim Sha Tsui, Kowloon, Hong Kong
Tel:  (00852) 2721 2030
Fax: (00852) 2311 6229