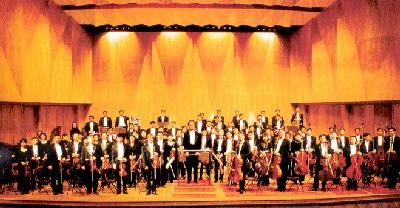 Shenzhen Symphony Orchestra
The Shenzhen Symphony Orchestra was set up in 1982. It got great success in its debut of the Yellow River Cantata and Beethoven's Symphony No.5 in 1985. Now it is a fully established orchestra that rehearsed more than 80 symphonies and 100 and more Chinese and foreign outstanding music works.
Since 1987, the Orchestra has visited and performed in Hongkong, Jiangxi, Sichuan and Hubei with widespread acclaim. As soon as it appeared at the Symphony in Spring Concert in Guangdong Province and the 5th Ram City Music and Flowers Fair, it received favorable comment from the audience. The Orchestra also participated in the 4th China Art Festival at Lanzhou in 1994 and preformed Symphony No. 9 by Beethoven at Shenzhen in 1995.
The person who have been invited to be the artistic advisers and guest conductors of the Orchestra are: Chinese well-known conductors Li Delun, Yan Liangkun, Han Zhongjie, Huang Xiaotong, Zheng Xiaoying, Bian Zushan, Chen Xieyang, Shui Lan, Hu Yongyan and Chen Chengxiong; famous American conductors Constantin Nities, Paul Antony Mcray, Jere Lantz and Nico Snel; famous German conductors Hans Herbert Joris and Stefan Fraas; famous Australian conductor Ronald Smart, President of Mozart Conservatory of Music in Austria Kross Arge and famous Russia conductor A. Lyrov.
The main representative music works played by the Orchestra are: Symphonic poem Opening Up; Zheng (string plucked instrument) and orchestra ensemble Spring Arrives in Shenzhen Bay; symphonic overture National Flag, 1997 and Symphony The Story of Spring.
Website:  www.sso.org.cn
Address: No. 2025, Huangbeilu Road,Luohu District, Shenzhen, Guangdong Province
Post code: 518021
Tel: (0755) 5403930
Fax: (0755) 5528394