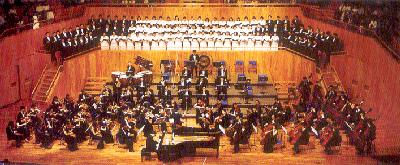 Guangzhou Symphony Orchestra
The Guangzhou Symphony Orchestra was established in 1957. Since its founding, the symphony orchestra has cooperated with famous conductors and players at home and abroad including the former Soviet Union, Germany, the United Stated, Australia, the Netherlands, Italy, and Japan in staging all kinds of concerts and world-famous ballet dramas, symphonic music and chamber music pieces. Its partner art troupes includes the British Royal Ballet, British National Ballet, Moscow Grand Theater Ballet, French Paris Opera and Ballet Troupe, Hungarian National Ballet, Australian National Ballet, Cuban Ballet, German Cologne Chamber Music Troupe as well as Hong Kong Ballet and Macao Chamber Orchestra. Since early 1990s, the Orchestra has toured Hong Kong and Macao for various performances, particularly at art festival in 1993 and 1995, with warm responses from the audiences.
The orchestra's major artists include Xu Ruiqi, first grade conductor Zhang Qian, firsr grade actress and Zhang Yi, second grade player.
Website:  www.gso.org.cn
Address: No. 32-34,  Shuiyin Siheng Road, Guangzhou, Guangdong Province
Post code: 510075
Tel: (020) 8704 8501
Fax: (020) 8704 8479