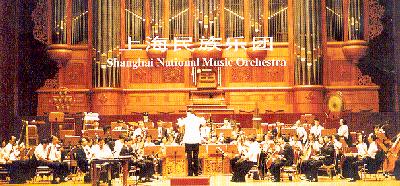 Shanghai National Music Orchestra
The Shanghai National Music Orchestra was founded in October 1952. For over forty years, the orchestra is not only specialized in playing folk music of the southern region of the Yangtze River, but also good at playing the Guangdong music, Zhejiang music, blowing and beating music, drum music, and national music of foreign countries. The Orchestra has held various concerts including classic music concerts, national music concerts, solo concerts, foreign music concerts and exploitative new music concerts which had extensive influence at home and abroad. Many of its works have won prizes in national instrumental competitions and spread to Hong Kong, Macao and Southeast Asia. It has gramophone records and album tapes with great popularity and good marketability domestically and internationally.
The Orchestra has visited some 40 countries and regions and has won high praise from the host countries.
The Orchestra has a group of senior instrumental players including: pipa player Sun Yude; f1ute player Lu Chunlin, guqin player Zhang Ziqian and erhu player Xiang Zuying. Its well-famed players also include Min Huifeng, Xiao Baiyong, Yu Xunfa, Wang Changyuan, Tang Liangxing, Gong Yi, Gu Guanren, Zhou Chenglong, Cao Yanzhen and Ma Xiaohui.
Website:  www.sh-co.com.cn
Address: No.336, Xinhua Road, Shanghai
Post code: 200052
Tel: (021) 62835288   62805660
Fax: (021) 62823259