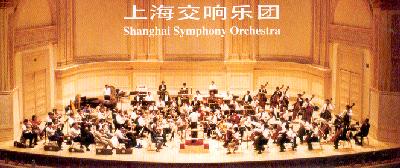 Shanghai Symphony Orchestra
The Shanghai Symphony Orchestra got its name in 1956. Its predecessor the shanghai Public Orchestra was first established in 1879. It was expanded in 1907 to a symphony orchestra with German Conductor Dr. Bock as its chief Conductor. In 1919, Italian pianist and conductor Pachi succeeded to position. In 1929, the band was renamed as the Shanghai Industrial Bureau Philharmonic. In Oct 1950, Hua Yijun became its conductor as a Chinese and later leader of the band. In Dec 1984, Chen XieYang became its leader, and the Shanghai Philharmonic Orchestra then adopted the Chief Music Director Responsibility System, with Chen Xieyang as its Chief Music Director and Chief Conductor. Zhang Guoyong is its standing conductor.
Its representative works includes piano concerto "Mountain Forest"; symphonic poem "The Monument to the People's Heroes", The Fourth Symphony", "Symphonic Fantasia", "The Second Symphony", "The Eighth symphony"; Suona Concerto "Voice of Heaven"; symphonic poem The Vicissitudes of the Century and etc. Since 1975, besides domestic performances, the Shanghai philharmonic Orchestra has also held concerts in Australia, New Zealand, Japan, the United States, Germany, Switzerland, Italy, the DPRK, the ROK, Thailand, Singapore as well as Hong Kong, Macao and Taiwan regions and has won high praises.
Now the Orchestra has many famous artists including Qu Wei (first grade composer, representative work: symphonic poem "the Monument to the People's Heroes), Zhu Jianer (first grade composer, representative work: "Heroic Epic and "Festival Overture"); Chen Xieyang (first grade conductor, he has won several awards in national competitions and visited the former Soviet Union, Japan, the United States, Singapore, Italy, Australia, Germany, Hong Kong and Taiwan to conduct. He also conducted twice for the Central National music Orchestra in their performances held in the Gold Hall of Vienna in Jan. l998 and Feb. 1999).
Website:  www.sh-symphony.com
Address: No.105, Hunan Road, Shanghai
Post code: 200031
Tel: (021) 64375617
Fax: (021) 64333752