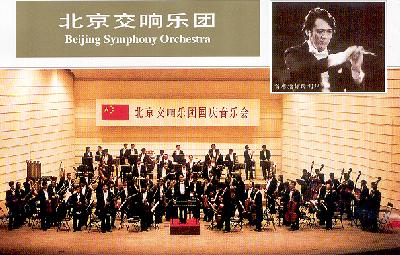 Beijing Symphony Orchestra
The Beijing Symphony Orchestra was set up in October 1977. Since its establishment, the orchestra has staged a lot of famous works by foreign and Chinese composers. The orchestra's repertoire includes symphonic works by Haydn, Mozart, Beethoven, Schubert, Berlioz, Mendelssohn, Bruckner, Brahms, Tchaikovsky, Dvorak, Mahler, Sibelius, Rachmaninoff, Prokofiev, Shotakovitch and orchestral music, concertos, operas and ballet works by J.S. Bach. Handel, Paganini, Weber, Rossini, Glinka, Chopin, Liszt, Wagner, Verdi, Offenbach, Smetana, Saint-Saens, Delibes, Bizet, Bruch, Mussorgsky, Grieg, Rimsky-korsakov, Debussy, Dukas, Glazunov, Respighi, Bartok, Stravinsky, Gershwin, Copland.
For the first time in China, the Beijing Symphony Orchestra has presented Dvorak's Symphony No 6 in D Major, Symphony No 7 in d minor, Gliere's Symphony No 2in c minor and Bruckner's Symphony No3 in D major. The orchestra has toured countries such as Yugoslavia and Republic of Korea with many overseas symphony orchestras including Russia national Symphony Orchestra, Australia ABC Symphony Orchestra, and maestros from home and abroad, including Evgeny Svtlanov from Russia, Jean Perisson from France, Herbert Zipper and Ronald Schweitzen from the United States, David Procelijin from the Netherlands, Hans Herbert Joris from Germany and Li Delun, Huang Feili, Yan Liangkun, Han Zhongjie, Shui Lan from China and pianist Vladimir Ovchinikov, Fu Cong, Liu Shikun, Yin Chengzong, Hsu Fei-ping and Kong Xiangdong, Violinists Jean Mouilere from France, A.Tellefsen from Norway, Takako Nishzakj from Japan, Zhongguo Sheng and Lu Siqing from China.
Address: A-1 Bakeyangshu, Shuangjing, Chaoyang District, Beijing
Post code: 100022
Tel: (010) 67761559