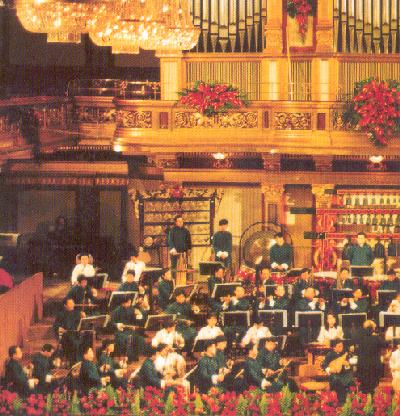 China National Music Orchestra
The China National Music Orchestra was established in l960 with composer Li Huanzhi, chairman of the Chinese Musicians' Association, as its first president. Current president of the orchestra is Gu Xiayang.
The orchestra consists of the nationalities' symphony band, folk choral group, composers' workshop and other departments. With an aim to promote Chinese national music, the orchestra has collected a large quantity of great musical works from various Chinese ethnic groups. The orchestra also contributes to China's national music by producing and performing many national musical numbers of high quality. Some representative works include "Spring Festival Overture," "Great Wall Capriccio," "A Spring Night with Moonlight Dancing on the Flower and River," "Moon Image Ref1ected in Erquan Springs," "Osmanthus Blossom in August," "Folk Songs of Camellia Hill" and "Look at My lover."
Today, the orchestra consists of many first-class musicians, such as Qin Pengzhang, Wang Tiechui, Zhang Li, Liu Wenjin, Jiang Jiaqiang, Hu BingXu, and Yan Huichang, including a large number of young national musicians who have won competitions both at home and abroad. Other world-renowned musicians, like Yan Liangkun, Han Zhongjie, Ma Yoyo and Chen Chengxiong, have also cooperated with the orchestra.
Since its establishment, the China National Music Orchestra has paid performing visits to the former Soviet Union, Britain, France, Spain, Greece, Yugoslavia, Japan, Korea, Singapore, as well as Hong Kong, Macao and Taiwan. It has also won top prizes at the sixth and 13th World Youth festivals.
In 1993, the orchestra co-established the Asian Orchestra with the Japan Music Group and Korean National Symphony Orchestra to promote the creation and exchange of Asian national music. At the 1995 Spring Festival, the orchestra initiated a New Year Concert with a strong Chinese national flavor, which has been an annual event featuring Chinese national music ever since.In 1997, the orchestra toured the United States and visited 17 cities, including New York, Washington, Chicago, Los Angles and San Francisco. During the trip, it performed the first Chinese musical performance at Carnage Hall in New York with great success. During the 1998 and 1999 spring festivals, it also performed at the Gold Hall in Vienna, Austria and visited Berlin, Germany and Denmark, where it was very well received.
In the future, the orchestra will continue to make even more contributions, carrying China's national music to a new level.
Website:  www.ccno.net
Address: No.15, Xiaoying Road, Chaoyang District, Beijing
Post code: 100101
Tel: (010) 64933821   64933876
Fax: (010) 64933821   64933876