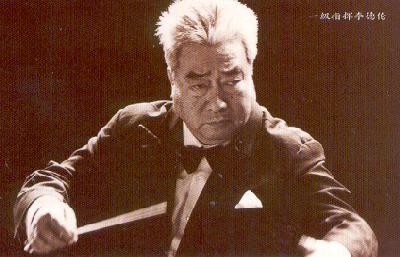 China National Symphony Orchestra
The China National Symphony Orchestra was formed in 1996 as a professional symphony orchestra. It carries out a cooperative management mechanism between the production and marketing of art works. The chief art director is its president, presently Dr. Chen Zuohuang. The general manager: Zhu Xinren; the chief player: Liu Yunzhi; conductors: Shi Shucheng and Li Xincao. The Orchestra was previously known as the Central Philharmonic Society, which was established in 1956, with music critic Mr. Li Ling as its first president. It had ever a most influential orchestra and a choral group in China. For forty years, with the conducting of famous Chinese conductors Li Delun, Han Zhongjie and etc., the orchestra has successfully played various symphony works of different ages, styles and schools. It had co-performed with celebrated orchestra: e.g. Berlin Philharmonic and Boston Philharmonic, and distinguished conductors including: Karajan, Seigi Ozawa, Minuhin, Auestrakn, Stein and Tortery. It has also paid successful performing visits to countries like Japan, DPR Korea, ROK, Malaysia, Spain and the regions of Hong Kong, Macao and Taiwan. With well-known conductors Yan Liangkun and Qiu Li as its leader, the Society's choral group visited the United States, Canada, and Taiwan and won prizes in competitions at home and abroad.
In 1998, with Dr. Chen Zuohuang as its president, the China National Symphony Orchestra successfully held a series of concerts in Vienna, London, Frankfurt and other cities known as classical music metropolises. London newspaper The Times praised the Orchestra as a sophisticated music band with vigorous sound and excellent play. With the Philip Corp., the orchestra has also recorded a series of gramophone records of western classics and Chinese national music.
China National Symphony Orchestra has a group of famous artists including Liu Shikun, Yin Chengzong, Yang Bingsun, Sheng Zhongguo, Liu Shufang, Wei Qixian, Luo Tianchan, Hu Songhua, Qu Xixian, and Wang Kaichuan, etc.
Website:    www.cnso.com.cn
Address: No.1, Building Section 11, Heping Street, Dongcheng District, Beijing
Post code: 100013
Tel: (010) 64211277   64213296    64285270
Fax: (010) 64213541