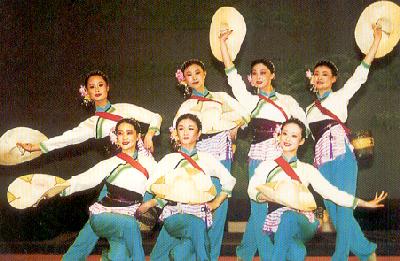 Zhejiang General Song and Dance Ensemble
The predecessor of Zhejiang General Song and Dance Ensemble was Zhejiang Folk Song and Dance Ensemble established in May 1957.The Ensemble started to use the present name in 1988.It is now composed of a philharmonic orchestra, an orchestra of national music, a dance troupe, a stage arts center.
The zhejiang General Ensemble has many artist of seniority and prestige like Sun Hongmu, Tan Lijuan, Qian Zhaoxi, and Ye Caihua. Many young talents in singing, musical instrument playing and dancing have also emerged in recent years; some of them and their works won prizes several times at national competitions. It is worth mentioning that Concord, a symphony of national music style, has won the Wenhua prize awarded by the Ministry of Culture, The Partridge Flying, a flute concerto, was played in the Golden Hall Musikverein in Vienna by the Central National Music Orchestra of China.
The General Song and Dance Ensemble usually has the laudatory title the Cottonrose Hibiscus in the Region of rivers and Lakes. It has visited more than 20 countries and areas and enjoys high reputation in China and abroad.
Address: No.4, Shuguang Road, Hangzhou, Zhejiang Province
Post code: 310007
Tel: (0571) 85117866
Fax: (0571) 85117899