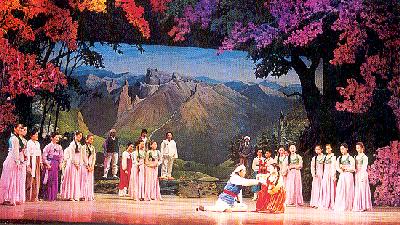 Yanbian Song and Dance Ensemble
The predecessor of the Yanbian Song and Dance Ensemble was the propaganda team for the army of volunteers of Korea, which was renamed as Yanbina Song and Dance Ensemble.
The Ensemble boasts excellent song and dance programs with distinctive national characteristics such as chorus: The Song of Changbai Mountain, song: The Song of Daughter(both two won silver prize of the 6thWorld Youth Festival), song accompanied on jiaye-violin: Oh! Changbai Mountain, Our Pride ; song accompanied on drum: Our Life Is Thriving, dance Joy of Farmers, Carrying Water On Head, Water Watcher and Great Joy; jiaye-violin solo: Shen Qing, violin concerto: Spirit of Changbai Mountain; dance drama: The Tale of Chunxiang and Boys of Ah Li(both two won the 1stWenhua Award issued by the Ministry of Culture and 17 artists have won the individual Wenhua Awards.); dance poem: Affection Towards Changbai Mountain(winner of the 8thWenhua New Plays Prize of the Ministry of Culture); solo dance: Heartstrings(Wenhua New Program Prize winner); chorus: Changbai Mountain, Mother's Love which won the first prize in creation and second prize in performance at '98 China National Chorus Competition sponsored by the Ministry of Culture.
Since the 1950s, about seventh works have won the first, second and third prizes in creation and performance. The Ensemble has been invited to visit the former Soviet Union, the DPR Korea, Japan, the United States, the RO Korea, Romania, Sri Lanka, Thailand and the region of Hongkong.
The Ensemble has 53artists with high-grade professional titles including Li Chenshu, Piao Ruixing, Cui Longguo, lin jing, Yu Bingjie, Xu Shu and Lin Shanyu.
Add: No.18, Henan Street, Yanji, Jilin Province
Zip Code: 133001
Tel: (0433) 2818099
Fax: (0433) 2812795