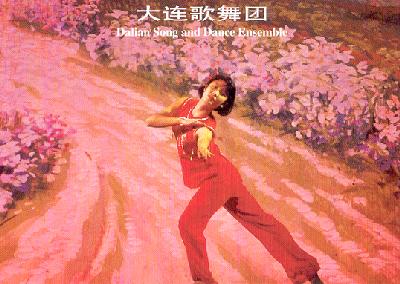 Dalian Song and Dance Ensemble
The Ensemble was formed out of Lu Da Art Troupe in June 1953. Over the past 40 odd years, the Ensemble has performed a great number of original works of song and dance, and joined a national invitational performance festival in Northeast area, music flower festival in Guangzhou, music week, summer concert in Harbin, national competition of dance, national invitational dance performance, dance competition in Liaoning Province, Liaoning Art Festival, Dalian Art Festival, Dalian International Clothes Festival and the 4th National Game of the Crippled. More than 50 works and 50 players have won the prizes at national of provincial competitions. Among them are songs I Am a Commune Stockman, Lullaby, opera Haipeng Flower, dances Hua Drum, White Crane, The Girl Who Raises Pigs, Sentiment of the Fence, dance drama Date Flower, national music Suite of Fishing Family, Rivers, The 1st Erhu Concerto, The 2nd Erhu Concerto, The 3rd Erhu Concerto, The Echo of the Pole, which are very popular.
The company has been taking an active part in the exchange of art and culture with foreign countries. In the 1950s, the company visited The People's Republic of Mongolia and former Soviet Union at invitation. In 1957, the company won a gold medal for the dance Flower Drum at the 6th World Youth Festival. Afterwards, part of players with China Art Troupe, Liaoning Art Troupe and China Ensemble of Young Dancer have visited Venezuela, Sudan, Korea, Yugoslavia, Romania, Pakistan, Canada, America. In the 1990s the company visited five Southern African countries, Holland, Singapore, RO Korea and Thailand where it was warmly welcomed.
Address: No.161, North East Street, Xigang District, Dalian, Liaoning Province.
Post code: 116013
Tel: (0411) 2484884