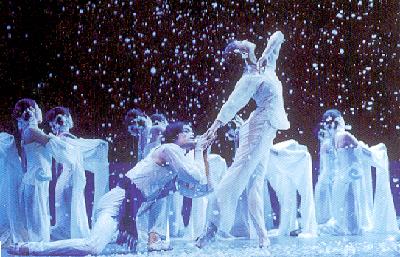 Liaoning Ballet Troupe
The Liaoning Ballet Troupe was founded in 1981.Since its founding, the Troupe has produced on stage a number of classic ballets, including the "Swan Lake", "Le Corsaire", "Unlockable Daughter" and selected Scenes from "Don Quixote", "Carmen", "Cinderella and "Romeo and Juliet. "The creations by the troupe include grand ballet "Liang Shanbo and Zhu Yingtai" (the 1986 annual award winner of the excellent work prize issued by the Government of Liaoning Province),"Geda Meilin", "Peacock Bile (Excellent Ballet Award winner in the 1992 National Ballet Demonstration Performance Competition),"Moon Mirrored in two Springs(winner of 6 prizes in the 1997 National Ballet Demonstration Performance Competition). The Troupe has also been invited to visit the former Soviet Union, Malaysia, Japan and the regions of Hong Kong and Macao to participate in art festivals.
All the dancers in the Troupe are graduates from professional ballet schools. Up to now, the young dancers, with Yang Xiaoguang, Chen Shu and Liu Shuang as their representatives, are active on stage. Six dancers from the Troupe have won the gold prizes in the international ballet competitions, five third-prize winners and five special award winners. In addition, the dancers, playwrights directors, teachers, musicians and art designers of the Troupe have also won more than in prizes in national and provincial competitions.
Address: No. 9, Xihe Road, Huanggu District, Shenyang, Liaoning Province
Post code: 110032
Tel: (024) 86914150   86899216
Fax: (024) 86914150