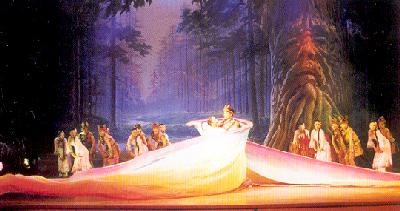 Hulunbel League Nationalities Song and Dance Ensemble
The Hulunbel League Nationalities Song and Dance Ensemble was founded in July 1950.
For over forty years, with the practice of art, the Ensemble has developed its own strong national style characterized by a distinctive local flavor. The repertoire of the song and dance includes "The Feelings are tied with Xing'an Mountain. Mongolian opera: The Colorful Xi Ni River", dance: "Mountain Fruits are Ripe", large scale opera: "Red Eagle on the Grasslands". Two others are mainly with the nationalities of the Dhur, the Owenk and the Oroqun. There are totally 86 art works, which won the nation grade prizes, and 226 works, which won the excellent creating prizes awarded by the Autonomous Region. It has more than one hundred actors and actresses who won the prizes for excellent performance, and fully displays the artists, strength of the ensemble. Over the years, the ensemble has paid visits to Mongolia, the former Soviet Union, DPR Korea, Holland, Sweden and Russia. Their superb performances are highly praised by the audiences.
At present, the ensemble has such leading actors and actresses as Sun Peizhen, Wu Nite, Jiang Nan and Zhu Zhaoxia.
Address: Hailaer City, Inner Mongolia Autonomous Region
Post code: 021000
Tel: (0470) 8334153