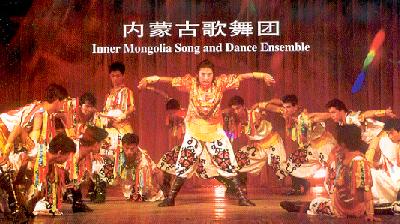 Inner Mongolia Song and Dance Ensemble
The Inner Mongolia Song and Dance Ensemble (formerly The Inner Mongolia Art Troupe) was established in April 1946. For more than 50 years, the Ensemble has created and performed many outstanding song and dance programs. In 1950, after watching the Ensemble's programs at the ceremony for the one year anniversary of the founding of new China, Chairman Mao Zedong wrote the famous poem: The Sun Rises at the Rooster's Crowing" (Huan Xi Sha). Other prize-winning programs are as follows: "The Erduos Plain, "Bowl Dance", "Chopsticks Dance"  "Milk, "On the Pasture", "Camel Bell", "Eagle", "The Pride of Green", "Happiness of the Herdsmen", "Dream of Tala", "Colorful Rhythm", "Perfume of Milk", "the Origin of Mongolia, My Fast Steed, Good Happy Life", "Sheepwool Shearing", The unsetting Sun on the Prairie", "Beloved Bulls, "One Hundred Mothers One Hundred Sons", and many others.
The chief artists the Ensemble include: Daoerji, QiBaoligao, Li men, in Hua, Qian YaIi.
Address: No. 29, North Tongdao Street, Huhehot
Post code: 010050
Tel: (0471) 6927513