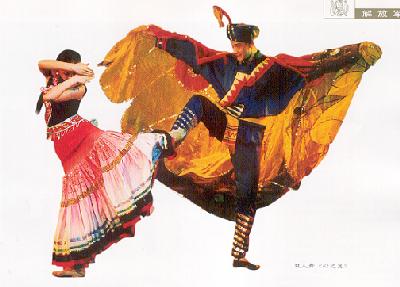 Flag Song and Dance Ensemble of the Political Department of Chengdu Military Region
The Flag Song and Dance Ensemble of the Political Department, Chengdu Military Region, Chinese PLA was established in September 1952. For 47 years since its establishment, the ensemble has produced a large number of outstanding programs with distinctive national characteristic and the imposing manner of the army men. The chief programs are the following: Chairman Mao Sent Some People Here, This Is the Place the Red Army Went Through (duets of man and woman); Awa People Sing New Song, Hometown People Remember Councilor Zhu De, the Ever-lasting Spring (woman's solos); the Red Flag on Daba Mountain (mixed-sound song with action), Seizing Luding Bddge, Working Song for Cart-driver, Happy Aspiration, Spring Tide, Joy, Looking for Love, Peak Qomolangma (dances); I'm a Soldier (bamboo flute solo); Ship Song in Chuanjiang River (Erhu zither solo); Alliance on Liangshan Mountain, Korean Pine on Snowy Mountain (full length operas); The Brilliance of Tiber, Ode to Banner (full length songs and dance); The Colorful Southwest (full length music, dance poem and picture harmonious drama) and etc. All these programs have taken part in national and army art festivals, important theatrical competitions, joint performance, or assemble performance for many times. They have also won various prizes including went111a Award presented by the Ministry of Culture.
On behalf of the nation and the army, the Ensemble has visited the UK, Canada, the former Soviet Union, Poland, Germany, France, Romania, Zambia, DPRK, Laos and Vietnam, etc. 
A lot of artists appear successively, the former ones: Li Shujun, Xie Yisheng, Niu Dezeng, Hu Jiexu and Feng Xianjing; the song writers: Yang Guoxiong and Yan Shutian; the composers: Ke Hui, Jun Ping and Zhao Jianmin; the ones active on Stage at present: Yong Xi, Shen Huiqin, Guowa Jiamaoji, Zhang Huidong, Zhen Yuhua, Wu Qishan, Huo Yong, Dong Huaiyi, Deng Tao, Feng Yude, Yue Xiaolin, Xu Yan, Fan Sanli, Jiang Cairu, Liu Xishen, Li Duquan, He Dehua, Yang Xiaoying, Zhang Donghui, Yang Zhenren, Zhang Jian, Wang Gengyin, Pei Hong, Zhu Guizhen, Su Dongmei, Fan Heping and others.
Address: No. 98, Zhengtongshun Street, Chengdu, Sichuan Province
Post code: 610017
Tel: (028) 6918280