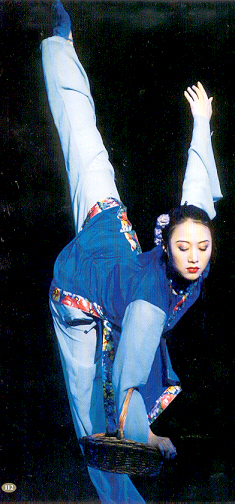 Soldier Song and Dance Ensemble of the Political Department of Guangzhou Military Region
The Soldier Song and Dance Ensemble, attached to the Political Department of Guangzhou Military Region of the Chinese people's liberation army, was established in 1955.
The ensemble has created and performed a lot of well-known excellent programs. Among them are songs such as Advance Unchecked on Horseback with Rifle in Hand, Bugle for Advancing, I Love My Motherland, Why Being a soldier Is An Honor, Loyal to the Communist Party, Picking Strawberries in the Jingang Mountain, Eulogy to Chairman Mao, Ode to Shaoshan Mountain, I Love You, China, Women Soldier March, Walk After the Moon, Turufan Grape Are Ripe, Hong Kong 1997, music suit Four Seasons Of the Fatherland; music ballad Bamboo Wood Which Can Sing Songs, dance dramas such as Mother Is Calling, Five Red Clouds, Golden Phoenix Flower Is Blossoming, Souls Of Human Port; dance performances such as Marching Forward, Soldier Playing Games, Postman Is ComingC, Hard Days, Night Exercise, Flying Cymbals, Sister Jiang Goes Up to the Mountain, Women Soldier, Red Star On the Snow, Extremely Forceful, Dragon boats, Our Beloved Flag, Night Harvesting. The art ensemble has won more than two thousand awards in various art festivals and competitions in China. The ensemble has toured the five countries in Southeast Asia as well as Japan, the U.S. and some east European and west Asia countries and Hong Kong and Macao regions.
A large number of composers, lyricists, music conductors once worked or are still working in the ensemble. The latter ones include Fang Tianxing (first grade composers), Xu Zhaoji, Du Ming, first grade sreenwriter Li Hua and director Guo Ping, first grade choreographer Li Chunren, first grade vocalists Qin Lei, Zou Yongcui, Tan Ming, Cai Qiping, first grade dances Zhang Yuping and Liu Jing, first grade music player Su Kaili, among others.
Address: No. 81, Nonglin Xialu, Guangzhou, Guangdong Province
Post code: 510080
Tel: (020) 87174484