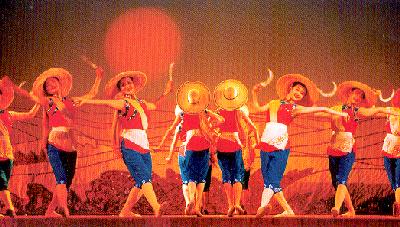 Jinling Art Performance Troupe of China
The Jinling Art Performance Troupe of China, attached to the Political Department of Nanjing Military Region of the Chinese People's Liberation Army, is a combination of several 1940s art troupes. The Ensemble got its name in 1955.
Over the past 40 years or more, the troupe has created and staged a large number of music, dance and quyi works, which depict the life of the soldiers and the army and reflect the societal changes in contemporary China with a distinctive local flavor of Southeast China. Some of these works have won the ensemble an array of awards in important nationwide art competitions and gala performances.
In 1959, the Ensemble went to Vienna, Austria and won two gold medals and three silver medals in the Seventh World Youth Festival before going to the former Soviet Union. In 1965, the ensemble went with Chinese Premier Zhou Enlai and Vice-premier Chen Yi to the celebration of the l0th anniversary of the Bandung Conference in Indonesia before touring Cambodia. The Ensemble also toured Poland, Albania, DPR Korea, the People's Republic of Mongolia, the United States, Canada, among others.
Some artists of the Ensemble have been invited to many countries in Asia, Africa, Europe, North and South Americas in recent Years.
Prestigious artists with the song and dance Ensemble include Yang Jiqiang, Ge Jun, Zong Ruifa, Wang Shengguo, Sun Zhenhua, Yang Luping, Liang Sufang, Huang Sujia, Su Shijin, Chen Huifen, Wang Yang, Yang Zhaoxin, Ying Zanqi, Chen Yibin, Tao Siyao, Wang Kexiu, Chang Chang and Luo Weihuai and many others.
Address: No. 55, Weigang, NanJing, Jiangsu Province
Post code: 210014
Tel: (025) 3386135
Fax: (025) 4432980