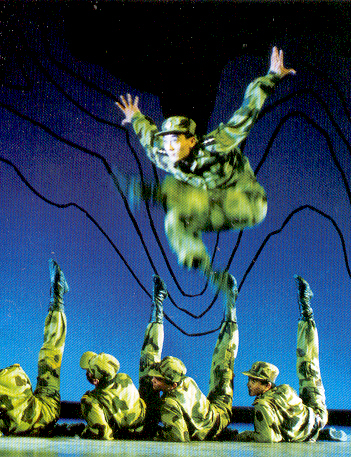 Advance Guard Song and Dance Ensemble of the Political Department of Jinan Military Region
The origin of the Advance Guard Song and Dance Ensemble was the art Troupe of the Political Department of Shandong Military Region, which was founded on May 4, 1949.
For half a century, the Ensemble has accumulated a large number of the excellent works. The man prize works are: the national instrumental music: The Sun Rises in the East, Welcome the Relatives, Recalling the Long March, The Great Wall Capriccio, Jinsha Beach, Yi Meng Mount, Phoenix Spreads the Wings, A Xi's Joyous Song, Brother in the Red Army Comes Back, Shandong Ditty, A Spray of Flower, The Love of Yi Meng, Camellia Ballad, Great Success, Attacking the Palace Gate, A Song of Triumph in the Southern Boundary, and The Autumn Harvest Uprising; the songs: Friendly Feelings, Praising Shandong, Lan Hua, Remember the Deep Feelings of the Motherland, Recalling the Long March and The wind Blowing Story; the dances: The Girl Weaver Sewing Flower, Spring Comes to the Tea mountain, The Red-Crowned Crane Dances, The East Wind is Strong, Red Soldiers Setting up Te1ephone Lines, The Song of Collecting Medicinal Herbs, Phoenix in the Fire, You are in my Heart, Save my son and Yearnings; the dance drama: the Flower Ring at the Foot of the Mountain; the opera: The Sons and Daughters of Yi Meng; Shandong Story The Wishes of the Girls, The Heart of the Beloved Mother and Old Liberator; Shandong clapper ballad He Long Attends the Banquet; the cross talks Full Moon, Elder Sister; Henan ballad singing Mother River; the short creation: The People of Taishan Mountain etc.
Since the 1950's, many members of the Ensemble have got prizes in artistic contests both at home and abroad; they won four gold, four silver and one bronze in the music and dance contest of the Sixth Moscow Youth Festival; the Song and Dance Troupe has successively made guest
performances in forty-two countries and regions, to the made of the Chinese art circles, making active conditions to the cultural exchanges between the people of China and the world.
The Song and Dance Ensemble has a large number of famous artists: such as, Hu Tianquan, Liu Hanlin, Wang Huiran, Zhang Shiye, Jing Jianshu, Zhao Xingquan, Liu Yueying, Xu Guirong, Sun Zhenye, Tang Aiguo, Li Ziqiang, Jin Busong, Zang Dongsheng, Guo Yongyue, Xue Shouyi, Zhang Hongshu, Lin Weihua.
Address: No. 82, Jing-11 Road, Jinan, Shandong Province
Post code: 250002
Tel: (0531) 2188825