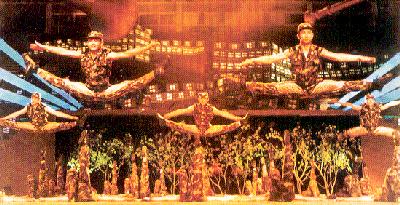 Comrade-In-Arm Song and Dance Ensemble of the Political Department of Beijing Military Region
The Comrade-In-Arm Song and Dance Ensemble of the Political Department of Beijing Military Region was first founded in 1937 with the name of Anti-Enemy Theatrical Troupe and got its current name in 1955.
With an army background and a strong local flavor, the Ensemble has formed its unique artistic style since it is always known to reflect the great changes of the times in its true-to-life performances over the past five decades. Its repertoires include large-scale music suite Long March suite; large-scale dance drama Yanling Squad, large-scale song and dance Wind from the Taihang Mountains; large-scale song and dance twinned with marching soldiers Colorful Sandtable; songs such as The Most Cheerful Man in the World, Squad Larder and I, Model Solder Lei Feng, Slow Down, My Horse, Watering the Happiness flower All Together, Very Nice to See You, Eight Marshals, Old Landlord, A Kettle of water, Motherland's New Look, Letter From Afar, Going To the Drilling Ground, Flying Flag, Full Moon, Being A Soldier, One, Two, Three, Four, Soldiers from All Places, Nothing To Say, Qomolangma; dances such as On the Way, Women Militia, Song of Prisoners, Walk, Run and Jump; instrumental music Soldier and the People, Ode to the Army and Long March Sonata, and etc. Some of the programs mentioned above won national awards such as the Twentieth Century Chinese Classical Music Award, Wenhua Award, Lotus Award for Excellent Dance, People's Liberation Army Culture and Arts Award and China Golden Record Award.
The Ensemble has toured some foreign countries including DPR Korea, Romania, Albania, the former Soviet Union and Japan as well as Hong Kong and Macao. Some dancers went to scores of foreign countries in Asia, Europe, Africa and Latin America.
The Song and Dance Ensemble has fostered a large number of superb dancers with top-notch artistic achievements.
Senior dancers at their posts include Ma Yutao, Zhang Zheng, Geng Lianfeng, Ma Ziyue, Liu Bin, Yu Wenhua, Zhao Ming, Yang Yi, Chen Shulin, Li Lishan, Wang Xiaoling, Zang Yunfei, Liu Shixing, Guo Dingli.
Address: No. A-1 Badachu, Shijingshan District, Beijing
Post code: 100041
Tel: (010) 66379573
Fax: (010) 68865223