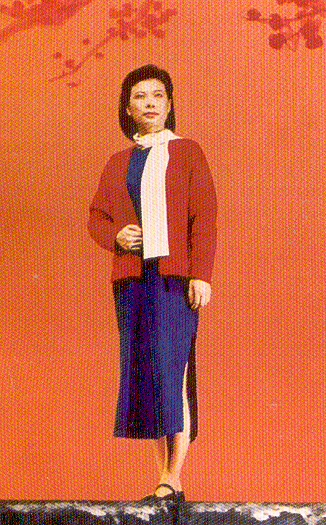 The Song and Dance Ensemble of the Political Department of the Air Force was established in March 1950. The Ensemble has produced many high quality performances with influence in and outside the Army. They include operas Sister Jiang, Recalling the Mother, Story of the Snowy Land; large-scale song and dance performance Historical Revolutionary Songs and Dances; opera and dance dramas Changshan Mountain Fire; dances On Take-off Line, Colorful Figures in Dun Huang, Seeing Friends off, The Appeal of the Wronged Dou'e, Drunken Drum, Huadan's Role; Kuaiban player New Songs in the Garrison; songs I Love the Blue Sky of My Motherland, All Commune Members are Sun Flowers, When Chairman Mao Comes to Our Village, Song of My Fellow peasants, See the Red Army Off for Ten Times, Song of the Autumn Harvest Uprising, Ping-pang Dances with F1ower Blossoming, Whither is Happiness, The Sound of the National Flag, Where is the Way, Men in Garrison, Source of the Yellow River, When the Black Hair flying in the wind, My Home Town is Beijing, Neighborhood Villagers, My Heart felt Words, The Great Wall Inspiration, One, Two, Three, Four, Soldier Brother, Yellow is the Yellow River, Bounded Duty, Serve the people, Hello, Hong Kong, The Five Sun Invites The Five Rings (the Anthem of the 7thNational Sports meet) and etc. In recent years, the Ensemble diversified the Beijing stage with large art evening parties including Great Wall in Blue Sky, The Green Youth Time, Ode to Spiritual Civilization, Walk in Spring Breeze and etc.
The Ensemble has paid visits to more than 20 countries including the former Soviet Union, Albania, Hungary, Romania, Burma, DPR Korea, Mongolia, Spain, the United States and Thailand in the name of the Chinese Art Troupe, of the Chinese Nationality Art Troupe and of the Chinese Air Force Song and Dance Ensemble respectively. These visits played an important role in the promotion of our art exchanges and friendship with people armies of other countries.
Now the famous artists of the Ensemble include lyric writers Yan Su, Zhang Shixie and Shi Shunyi; composers Yang Ming, Yao Ming and Meng Qingyun; singers Dong Tiexin, Zhen Li, Zhou Lingyan, Jie Houfang, Lin Ping, Tie Jin and Sun Weiguo; erhu player Jiang Xuedeng and Deng Jiandong; accordion player Ren Shirong; dancer Qiu Fei, Yang Yuelin, Meng Zhaoxiang, Zhao Hongwu and Wang Dongmei; quyi artist Tang Wenguang and Liu Yajin.
Address: No.18, Beitaiping Road, Haidan District, Beijing
Post code: 100039
Tel: (010) 66887739
Fax: (010) 68187601