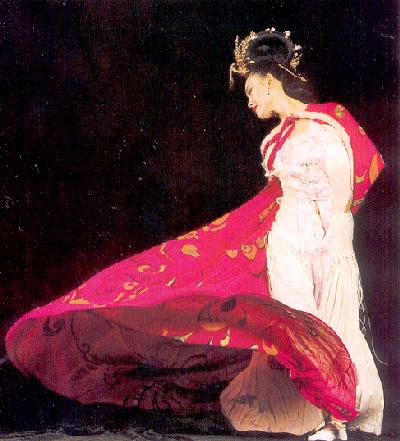 Song and Dance Ensemble of PLA General Political Department
The Song and Dance Ensemble of the General Political Department of the PLA was founded in May 1953. Since its founding, the Ensemble has had over l00 artists and programs winning prizes at the national and army art festivals and contests. It has created songs such as Heroes Conquered the Dadu River, Long Live the Motherland, Standing on the Chained Bridge, Where Are You Going Uncle Kuerban, Going Back to you, Chairman Mao's Kindness Is Greater Than Mountains and Rivers, Bye Mum, A Strong Country and Happy Families, Little White Popular and We Are the Yellow River and Mount Tai. The dances created by the Ensemble include Waist Drum Dance of the Army, The Immortal Soldier, Neighing Battle Steed, In the Drilling Ground, A Fighting Match, Burning Anger, March of Soldiers, Petrel, In the Land of Hope, Sister Xianglin and Princess Zhaojun Goes Beyond the Great Wall.
In the 1990s, the ensemble, in collaboration with other military performing art troupes, has staged a series of large-scale song and dance performances entitled People's Army Is loyal to the party, People's Army Loves the People, People's Army Loves the Country, The Great Long March, Our Army Marching to the Sun. Particularly its Army Soul, reflected the history of the PLA; and the Country Soul was produced celebrating the victories of anti-Japanese war and 50th anniversary of the anti-fascist world war. Some of the songs Mount Qomolangma, Song of 1234 and dances Men of strength, Heroes, A Soldier's Holiday and Flying Goddess are well known. The Ensemble has toured dozens of countries and regions spreading the Chinese art and culture and has been warmly received.
The Ensemble boasts successively a great number of talented artists including famous choreographers Dong Xiaowu, Hu Guogang, Zhu Donglin, Zhang Wenming, Jiang Huaxuan, Liu Ying, Yu Zengxiang, Sun Jiabao, Zuo Qing and Zhang Jiangang; text wrighters Wei Feng, Chen Kezheng, Li Yourong, Gao Jun, Qu Zong, He Dongjiu and Zhao Dailing; celebrated composers Shi Lemeng, Meng Guibin, Yan Ke, Lu Zulong, Fu Gengchen, Xu Xiyi, Zhang Naideng, Shi Xin, Meng Xianbin, Ding Xiaoli and Zhang Zuoya; famous conductors Hu Defeng, Xu Xin, Liu Yunhou and Zheng Jian; well-known singers, dancers, players and Quyi artists such as Jiao Yunyu, Xu Youguan. Kou Jialun, Su Shenglan, Zuo Hala, Wu Wenfu, Li Shuangjiang, Kelimu, Peng Liyuan, Dong Wenhua, Cheng Zhi, Wang Xiufen, Yu Junjian, Xiong Qingcai, Yan Weiwen, Mao A min, Huang Hong, Cai Guoging, Ma Yongmin, Wang Zhongfu, Liu Min, Zhou Guxin, Dong Zhengion, Wang Xia, Shen Peiyi, Li Qingming, Zeng Minxin, Li Yan, Cheng Min, Liu Xiaona, Yin Zuolin, Huang Qicheng and Qiu Hui as well as celebrated stage designers Liu Heping, Pi Qiliang, Song Li, Fan Yao and Sha Xiaolan.
Address: No. A-27 Wanshousi, Beijing
Post code: 100081
Tel: (010) 68425364
Fax: (010) 68425364