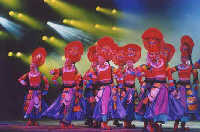 Founded in September l952, the China Central Song and Dance Ensemble of Ethnic Groups is the only performing arts troupe of ethnic minorities at the national level.
The ensemble aims to preserve, promote and develop minority ethnic arts and culture in China. As an envoy of friendship, the ensemble has visited more than l00 countries and regions across the world and won high acclaim due to its strong ethnic color and outstanding artistic style.
Its repertoires include dances such as "Reba in the Grassland," "Spirit of the Peacock," "Catching Fish," "Lotus Girl," "Children of Fire," "Red Clouds," "Miao Youth Dance," "Song of the Herdsmen," "Spring, Flowing Stream"; songs such as "Guests from Afar Please Stay," "Presenting the Zhuang Silk to Chairman Mao," "56 Ethnic Groups Are 56 Flowers," "Defending the Frontier on Galloping Horses," "Horsemen, Mongolians," "My Home in the Xinganling Mountains," "Song Accompanied By Dongbula," "Song Accompanied by Jiaye"; and instrumental music such as "Dance of the Yao People," "Spring on Tian Shan Mountain" and "Drum Soul." Among them, the Sani folk song "Guests from Afar Please Stay" was awarded the golden prize at the 6th World Youth Festival.
The ensemble boasts over 300 actors, actresses and staff from 36 ethnic groups, including Mongolian, Hui, Zhuang, Manchu, Tibetan, Yi, Korean, Uygur, and Han, etc. Over the past 40 years, the ensemble has nurtured and gathered several generations of talented and resourceful singers, dancers and performers as well as composers and songwriters, playwrights and directors. As early as in the l950s and '60s, it had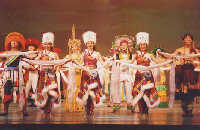 such nationally well-known artists as Wu Xiaobang, Jia Zhuoguang and Hu Songhua among its ranks. The ensemble now consists of such famous artists as Jiang Dawei, a first-grade singer with the best-known songs "A Place with Blossoming Peach Flowers" and "Song of Peony"; Dedema, a first-grade singer known for her songs "The Beautiful Steppe Is My Home" and "Horsemen";Yang Liping, a first-grade dancer known for her dances "The Spirit of the Peacock" and "Two Trees"; and Tenggeer, a first-grade singer known for his songs "Mongolians" and "My Father and I."
Address: No 25, Baiyi Road, Haidian District,Beijing
Postal code: 100081
Tel: (010) 68728400
Fax: (010) 68420022