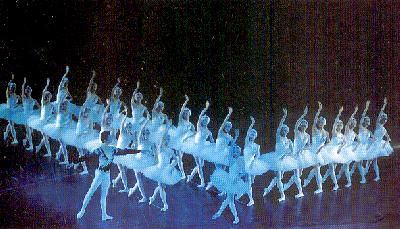 Ballet Troupe of the Central Opera and Ballet Theater
The Ballet Troupe of the Central Opera and Ballet Theater, formerly the Central Ballet of China, was founded in December 1959. The ballet troupe highly values the fine tradition of the classic ballets and attaches importance to the new ballet works created by artists of different style and schools in contemporary world. By using ballet as a foreign art form, the Troupe has succeeded in depicting the Chinese people's life and culture. Ground-breaking artistic experimentations have been made by senior artists such as Li Chengxiang, Jiang Zuhui, Wang Xixian, Wu Zuqiang, Du Mingxin, Ma Yunhong, and Li Keyu. They have choreographed such well-received new ballet as The Red Detachment of Women, The New Year Sacrifice, and Lin Daiyu. The main repertoire of the troupe include Swan Lake, Le Corsaire, Giselle, Sons and Daughter of the Prairie, Ode to the Yimeng Mountains, Sylvia, Don Quixote, Romeo and Juliet, The Fountain of Bakhchisarai and La Esmeralda etc.
All of the five generations of ballet-dancers at the Ballet Troupe come from the Beijing Dance Academy. Famous dancer Bai Shuxiang is a typical Five-generation member of the ballet troupe. They all have received strict comprehensive training that laid a solid foundation for their prize-winning performances. A great number of actors and actresses won grand awards many times in the national and international competitions and they are highly praised by their foreign counterparts for their outstanding artistry. Among others, the most popular ballet-dancers of the troupe are Feng Ying, Wang Caijun, Wang san, Li Yan, Xu Gang and Sun Jie in the 1980's; Zhu Yan, Zhang Jian and Ta Mila etc. in the 1990's.
The Ballet Troupe boasts high-profile ballet coaches and directors who have been recognized worldwide and have high artistry and rich training experience. Among them are Zhang Chunzeng and Wu Zenrong. Fully duty-bound administrators of the ballet troupe include Zhao Ruheng, Sun Xuejing and Huang Minxuan.
The ballet troupe also has its symphony orchestra with Li Guoquan as its present conductor. The symphony orchestra of the ballet Troupe boasts of many virtuosos. Under the baton of first conductor Bian Zushan and others, the orchestra has performed a lot of dance music pieces and symphonic music that are well acclaimed by both the critics and the audiences.
To promote international cultural exchange and to enhance the development of ballet in China, the Ballet Troupe has toured a number of countries in Asia, Europe, the Americas, and the regions of Hong Kong, Macao and Taiwan. Their 1986 tour to the Unite States, the U.K. and the Russia and 1990 tour to Germany, the Netherlands, Switzerland, Belgium, Austria scored a great success and helped greatly raise the international prestige of the Ballet Troupe.
Website:  www.ballet.org.cn
Address: No.3, Taiping Street, Xuanwu District, Beijing
Post code: 100050
Tel: (010) 63534962  83553737
Fax: (010) 63537062