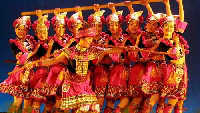 Composed of outstanding graduates from art schools and self-taught students from across the country, theLiuzhouSong and Dance Troupe of South China'sGuangxiZhuang Autonomous Region is a professional song and dance performing group with 100 strong artists and enjoys a good reputation both at home and abroad.
The troupe, which was established more than 30 years ago, has created and rehearsed a batch of song and dance works as well as operas with strong local flavor and unique ethnic glamour in the past few decades.
The most influential works include operas like Liu Sanjie, Red and Blue Straws, dance dramas like Love for the Mountain and Liu Zongyuan, the Zhuang Ethnic Group dance Sentiments for the Landscape of the Zhuang Village, as well as the Miao Ethnic Group dance Joyful Dapei.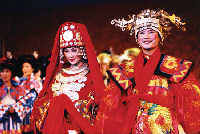 The large-scale work Bailian (White Lotus), as the first Chinese ethnic group musical in recent years, has won universal praise from local government leaders and theMinistry of Cultureas well as people from all walks of life. The work has won the Wenhua Award for New Plays from the Ministry of Culture as well the Sweet-scented Osmanthus Award issued by the Autonomous Region.
The new work Songs on Bagui, as a tribute to all of Guangxi's ethnic groups and cultures, won the nation's leading Wenhua Award at the Seventh China Arts Festival in September, 2004.
Address:  Zhongshan East Road, Liuzhou, Guangxi
Tel:  0772-2869360