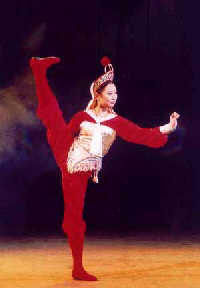 Founded in 1953, the Hunan Song and Dance Theatre has over the years grown from a local ethnic song and dance troupe into a provincial-level performing-art theatre with four troupes and orchestras (the Song and Dance Troupe, the Symphony Orchestra, the Vocal Music Troupe and the National Music Orchestra), two artistic departments (the Artistic Creation Dept. and the Stage Art Dept.) and a dance school attached.
Rooted in the fine traditions of ethnic minorities and folk cultures ofHunan Province, the theatre has in recent years taken unremitting efforts to further explore and develop themusic and dances of the ethnic minorities and folk artists. Meanwhile, it has attached great importance to producing top-quality works. With a balanced lineup of young and well-trained performers, it has staged shows and acts winning many awards at national and international festivals and contests.
In the area of international cultural exchange, the troupes of the theatre have performed for heads of state and other guests from many countries and also gone on tours of a number of countries including Japan, D.P.R.K, Italy, Poland, Austria, Russia, Nigeria, Senegal, Guinea, Sierra Leone, Cameroon, Gabon and the Burkina Faso.
Address:  No. 9, Renmin Central Road, Changsha City, Hunan Province
Tel:  0731-5562620