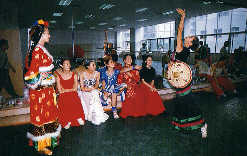 The Shenzhen Song and Dance Ensemble was established in October 1987 under the Culture Bureau of Shenzhen. With 110 total staff members, the ensemble is composed of the Dance Troupe, Song Troupe, and Stage Engineering department.
Bringing up and recruiting artistic elites has always been the most important item on the ensemble's agenda. As a result, the ensemble boasts a group of renowned artists, including singers Xiong Jiayuan, Yu Fenglan, Zhu Xiaoling, Sui Ning, Liu Xiaohuan, Chen Liguang; musician Zhang Xuhua; and dancers Huang Qicheng, Fu Shi'an, Liu Xinshi, Chu Jing, Liu Yufei, Li Hang, Liu Huizhao, Qiao Yong, Li Jia and Dong Xuehai. Among them, four are first-class performers at the national level.
Since its inception, the ensemble has created and staged many large-scale gala performances, such as "Paean to the Trail-blazers," "Sun, Land and River,"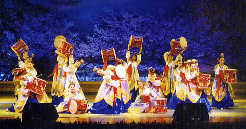 "Spring of Shenzhen," "Glory Recreated," "Taking Off" and "Sunlight of the New Century." The ensemble has also had commercial performances all over the country, including Beijing, Shanghai, Guangzhou, Chengdu, Chongqing, Fuzhou, Xiamen, Wenzhou, Zhuhai, Shantou, Meizhou, Haikou, Nanjing, Nanchang, Nanning Jiujiang Hong Kong and Macao. The overall performances have reached 1,000 since the ensemble's establishment. As a cultural emissary of Shenzhen, the ensemble has paid touring performances to Germany, Britain, France, Italy, the Netherlands, Austria, and Belgium, Greece, Luxemburg, Austria and Australia, receiving a warm welcome and applause from international friends and overseas Chinese. Their efforts have contributed greatly to the enhancement and advancement for the promotion of Chinese culture and international exchange.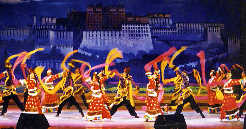 About 14 ensemble members have won provincial and national awards. The large-scale modern dance drama, "Story of Shenzhen," has won widespread acclaim from the dance community in China.
Major artists from the ensemble include soloists Xiong Jiayuan, Yu Fenglan and Zhu Xiaoling.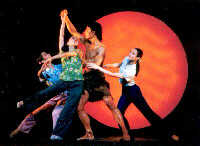 The ensemble has been keeping in pace with the development and improvement of the Shenzhen Special Economic Zone; dozens of performers have obtained awards in competitions both at the provincial and national levels. The ensemble has established a spirit of "unity, dedication, exploration and innovation", which will speed up the ensemble's improvement.
Address: No 128, Meihualu Road , Shenzhen, Guangdong Province
Zip code: 518049
Tel: (0755) 83111201   83100874