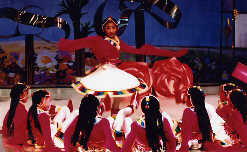 Located along the Silk Road, Gansu is a province of many ethnic groups in Northwest China. The prolonged history and inertia of traditional culture brought up the strong local culture that amalgamates folk art from different ethnic groups in the province. Various kinds of dances also highlight the province's profound cultural treasury.
The Huanghe Children's Arts Troupe of Gansu Province was founded at the Gansu Provincial People's Arts Palace in January 1996. The amateur troupe was established to nurture young talents, carry forward national and folk arts of the province and make children's lives more colorful.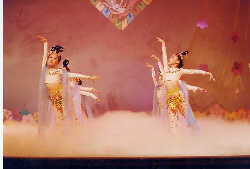 The troupe has selected more than 50 children from seven to 12 years of age, who excelled at dancing, playing instruments or singing from primary schools in Lanzhou and enrolled them for professional training courses at the Gansu Provincial People's Arts Palace. The troupe has insisted on a combination of basic skill and rpractice since the establishment, and has performed many dances and music of a strong northwestern flavor, such as Silk Road styles, Dunhuang styles or other folk styles.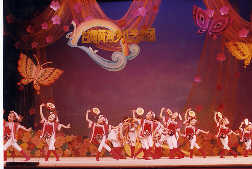 The troupe repertoires have been retained despite the fact that many children have grown up and left the troupe. Among them are the dance "Ox Horn Drums and Copper Bells", "Happy News in the Village" and "Bells and Drums Dance", which won gold, silver and bronze in China children's dances contests. The troupe often takes part in large-scale celebrations and contests in Gansu or other provinces. It also successively took part in the International Children's Arts Festivals in Japan in 1998 and in Turkey in 2000, receiving high praise.
Address: No 558, Donggang West Road, Lanzhou, Gansu Province
Zip Code: 730000
TEL: (0931)8822726