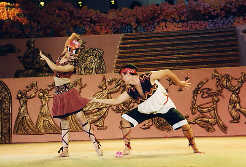 The Song and Dance Ensemble of Guizhou Province was founded in May 1956. As a professional performing troupe, the ensemble boasts a staff of more than 200 members composed of various ethnic groups, including Han, Miao, Bouyei, Dong, Yi, Hui, Manchu and Tujia, to name a few. Guizhou, as a province of many ethnic groups, is reputed as "the ocean of national song and dance", where a great number of musical and dancing talents were brought up and many elaborate song and dance works have been accumulated.
Since the 1950s, the ensemble has created many programs that have been popular among the people, such as "Stepping on Girls", "Sending Rafts", "Happy Miaos", "Gold Lusheng is Blown Again", "Marriage Song", "Fight with Horns", "Gupiao Dance", "Stepping on Drums", "Weaving Ballad" and "You He"; dance dramas such as "Lady Shainiang", "Menluo Flower" and "Blossoming Mountain Flowers"; songs like "Ode to Guizhou", "A Youngster Galloping Down the Hill on Horseback", "A Pitiful Youth", "Cicada Song", "The Red Sun of Miaoshan"; choruses like "Song of the Qingjiang River"; suites "Immortal Premier Zhou" and instrumental pieces like "Music Poem of the Grasslands" and "Memories of Yelang". Its ethnic dance drama "Manluo Flower" was adapted into a film in 1961 and won an honorary prize at the Locarno International Film Festival in 1963 in Switzerland. The troupe has toured over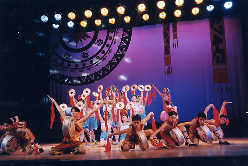 20 countries, including Poland, France, Hungary, Belgium, Italy, Azerbaijan, Japan, Canada, Panama, Venezuela, Egypt and South Africa, and has thus made its contribution to international cultural exchange.
In 2000, a large-scale song and dance performance "Good Flowers in Red" was created as a result of the joint efforts of all of the staff members of the ensemble. Featuring a strong local Guizhou flavor, the performance reflected the honest and brave spiritual outlook of the Guizhou people. During "Guizhou Cultural Week," which was held in Beijing in September 2000, "Good Flowers in Red" caused a sensation and was highly acclaimed by experts both from home and abroad. In September 2001, the performance won three golden medals for production, performance and stage set at the "Second National Art Performance of Ethnic Minorities".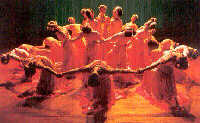 Principal artists of the troupe include top performers Luo Xingfang, Luo Shilong, Sheng Jiali and Yin Wenxia; top playwright Xu Xinzhi; top composer Yang Xiaoxin as well as the famous singer Ah Wang. Other talented artists from the ensemble include dancers Ah Lue, Ge Yinyuan. Mao Luo, Yang Zhengxing, Luo Lili, Zhang Jinghua and Tang Shengping; composers Zheng Hanfeng, Xu Kai and Ma Belong; conductor Shu Ke, lusheng player Dong Dangan; stage designer Zhou Dongwen and songwriter Han Lequn.
Address: No 85, Zhonghua Zhonglu Road, Guiyang, Guizhou Province
Zip Code: 550001
Tel: 0851-5823677 0851-5822817
Fax: 0851-5823677