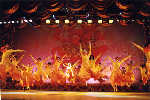 The Guangzhou Song and Dance Company was established in 1965. Since its establishment, the company has staged a great number of distinguished performances, among which the most famous are "The White-haired Girl", "Ode to Yimeng", "The Dagger Society", "The Red Tide in Pearl River", "Fly to the Moon", "Street Vendor and the Maiden", the "Zhang Runhua Dance Show," the musical works of Zheng Nan, "Life Journey," "Broadway", "Joyful Yao Shan" and "Everlasting Guangzhou".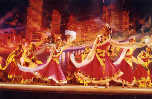 At the beginning of the 1980s, the company swept the country with its light music. Some works, like "Please Come With Me to the World's End" and "Love the Five Fingers Mountain and the Wangquan River" were once the most popular hits all across the country.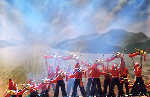 Over the past 30 years, the company had won various prizes both in China and abroad. Meanwhile, it had toured many countries and regions, including Indonesia, New Zealand, Mauritius, the United States, Japan, Singapore, Vietnam, South Korea, Hong Kong and Macao, contributing greatly to cultural exchange.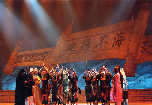 Since its establishment, the company has brought up and attracted a number of outstanding artists, such as Zheng Nan, dancer Zhang Runhua, composers Liu Chao, Liu Chang'an, Long Weihua, Li Yang, Guan Jian, playwrights Zhu Guolin, Zhang Zhilin, Cai Shaosheng, Wen Zhenya, Wang Zhongsheng, vocalists Yang Wenxiu, You Guoping, Huang Hong and famous singers Zhang Mi and Tang Li.
In recent years, the company has produced outstanding dance performances, such as "The Iron Fan" and "Dramatic Emotions and Determination". The production, "Climbing up the Heights", won the second prize at the 4th National Dance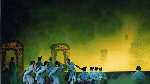 Competition, and the large-scale production, "Man of the Yellow River", was awarded the 7th National "Five-in-one Works" Award, Guangdong "Five-in-one Works" Award and the 6th Guangdong "Lu Xun Literary Award". At the invitation of the Ministry of Culture for the celebration of the 50th anniversary of the People's Republic of China, the company performed "Man of the Yellow River" in Beijing in May 1999 with overwhelming success. In September 1999, the performance was selected as one of the 50 major arts and entertainment programs jointly held by the Publicity Department, Ministry of Culture, State Administration of Radio, Film and Television, the Press and Publications Administration, China Federation of Literary and Arts Circles and Chinese Writers' Association. "Man of the Yellow River" was staged for the second time in Beijing, again receiving wide acclaim in the city.
Website:   www.gzgwt.com
Address: No 14, No 1 Street, Shaheding, Guangzhou, Guangdong Province
Post code: 510500
Tel: 020-87201631   87201630
Fax: 020-87731130