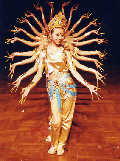 The Gansu Provincial Arts School is the only arts secondary school in Gansu Province. There is a wide range of programs -- from dance, to vocal music, to instrumental music and opera to painting - offered at the school. The teachers all boast high artistic accomplishments and rich educational experience.
For 30 years after its establishment, the school has trained more than 10,000 arts talents, some of whom have become leading performers in the many provincial art troupes. The former headmaster of the school, Gao Jinrong, who receives a special government allowance, is famous for creating the Dunhuang dance genre.
The school implemented a series of educational reforms in recent years: Literacy classes have been strengthened and the instruction quality has been greatly improved. The school has also cultivated a great number of talents and professionals for society.
To promote and exhibit the school's educational merits, the Dunhuang Dance Arts Exchange Troupe was founded, consisting of young teachers and honors students from the school. The troupe has successively paid performing visits to Hong Kong, Singapore and the United States. Its performances have greatly impressed audiences, as well as its counterparts in foreign countries.
Tel: 0931-4670374