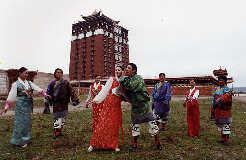 More than 300,000 Tibetan people, who excel in song and dance, inhabit the snowy plateaus and grasslands of Gannan Tibetan Autonomous Prefecture in south Gansu Province.
The Gannan Tibetan Song and Dance Troupe was founded in 1955 based on the strong artistic traditions in this area. For more than 40 years since the troupe's establishment, its talented members have created, explored and performed more than 170 programs on the basis of Tibetan traditional culture, such as the large-scale national dance drama, "Prince Sai and Dunyue Dunzhu". The grand dance performance, "Colorful Melodies," took part in the first and forth China Arts festivals and the dance "Herding Lions," "Love Songs in the Deep Forrest" and other programs have also won awards from the province's ministry of culture and the cultural bureau. The troupe has also staged successful performances in the United States, Canada and South Korea.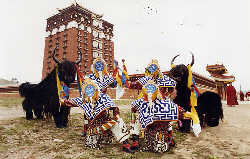 One of the troupe's repertoires is the grand dance performance, "Colorful Melodies", which actually made a breakthrough in ethnic dance forms. Inspired by Bailongjiang River, Huanghe River, Taohe River, Daxiahe River and Gahai Lake in Gannan, the dance basically consists of five major parts with a mélange of different kinds of performing genres of the many branches of people in the area. With its unique and original structure and style, the dance artistically reveals the special folk customs, festivals and landscapes of the region, and reflects the people's harmonious and healthy spirit.

Tel: 0931-8822726
Fax: 0931-8822726