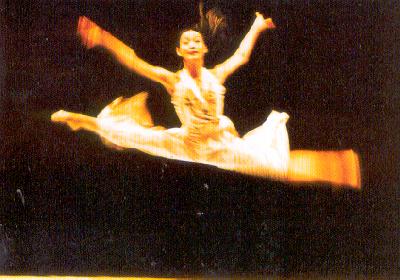 Hong Kong Ballet Company
Hong Kong Ballet is recognized as one of the leading ballet companies in Asia, and constitutes the sole professional ballet company in Hong Kong. The Company's 43 dancers participated in more than 40 performances each year of full-length and mixed repertory ballets to an audience of 45,000. Since its founding in 1979, the Company has evolved into a vibrant dance institution with accomplished dancers, a strong repertoire, sparkling productions and an original identity. Hong Kong Ballet has also emerged as an effective international ambassador for Hong Kong, making more than 15 international tours to 10 countries since 1997. On officially sponsor missions, the Government of the Hong Kong SAR has supported the Hong Kong Ballet as a Cultural Ambassador to North America, Singapore and major cities in Mainland China.
Hong Kong Ballet enjoys a rich tradition of artistic versatility. The Company's repertoire ranges from the great full-length ballets of the 19th Century, such as Swan Lake, The Sleeping Beauty, The Nutcracker and Giselle, to some of the best classical works of the 20th Century, including Balanchine's Theme and Variations and Tchaikovsky Pas de Deux, Rudi Van Dantzig's Romeo and Juliet and Ronald Hynd's The Merry Widow. The repertoire also includes acclaimed contemporary masterpieces such as Stephen Mill's Hush and Stanton Welch's Clear. To further broaden its repertoire and to support gifted choreographers from Europe, North America and Asia, the Hong Kong Ballet has commissioned works from David Allan (Cinderella), Wayne Eagling (The Last Emperor), Yuri Ng (yeah yeah Xi Men Qing) and Natalie Weir (Turandot).
The Company conducts active educational and community outreach programmes as an integral part of its activities. These programmes — including educational matinées, lectures, master classes, meet-the-artist sessions, lecture demonstrations and workshops — reach an annual audience of 20,000 and serve to increase the awareness, support, appreciation and audience for ballet in Hong Kong.
In July 2006, the former Artistic Director of the American Ballet Theatre Studio Company, John Meehan, was appointed Artistic Director. Mr. Meehan has a clear vision for the Company based on his passionate belief that the art of ballet, whether classical or contemporary, is a vibrant and relevant art form in present day Hong Kong and throughout the world.
Website:   www.hkballet.com
Address:  G/F 60 Blue Pool Road, Happy Valley, Hong Kong
Tel:   (00852) 2573 7398     2105 9724
Fax: (00852) 2572 8035     2575 2420