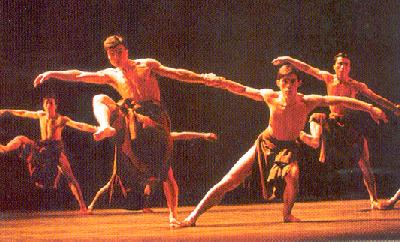 Hong Kong Dance Company
The Hong Kong Dance Company was established by the Urban Council in May 1981 with an aim to promote Chinese dance. From traditional and folk dances to original dance dramas on Chinese theme, the Company has a growing repertoire. The Company's first Artistic Director was Ms. Jiang Qing, world-famous Chinese dance composer in the USA.
Since its establishment, ninety-nine original dance works of varying styles have been presented. The Company has repertoire, such as Hua Pi, Yu-qing Sao, Rouge Button, Suchness, Ju Dou, Pilgrimage to the West, The Flowing Sea. Among the many outstanding productions, Yu-qing Sao is named as A Chinese Classic of the 20th Century. The Company was invited to give performance in Japan in 1983, to the Hong Kong Evening in the U.K in 1984 the International Folklore Festival and to the opening of the Asian Games in Seoul in 1988. Upon the invitation of Chinese Dances' Association, the Company toured Beijing in September 1988 with Yellow Earth and Yu-qing Sao. It was followed by an invitation to perform in Taipei Traditional Arts Festival in March 1990. The world premiere of Red Snow was given at the Third China Arts Festival in Kunming in February 1992, followed by the dance drama Rouge Button at '92 Hong Kong Festival in Toronto, Canada n October the same year. In June 1996, the Company gave a highly successful performance of Suchness at the Singapore Art Festival, and in October 1997, it was invited to stage Suchness at the Fifth China Arts Festival in Chengdu.
The Company has leading artists as follows: Jiang Huaxuan, Jin Baolong, Lin Li and Hu Jun.
Website:   www.hkdance.com
Address: 4/F Sheung Wan Municipal Services Building, 345 Queen's Road Central, Hong Kong
Tel:  (00852) 3103 1888      3103 1809
Fax: (00852) 2805 2743      2851 3607