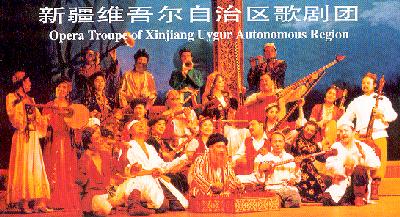 Xinjiang Song and Dance Ensemble
The Xinjiang Song and Dance Ensemble was established in 1949, consisting of artists from nationalities such as the Uygur, Han, Khazak, Hui, Mongol, Kirgiz, Uzbek, Xibe, Manchu, Tajik, Russian.
Since its establishment, the Ensemble has created and performed a large number of dances, songs and music programs of Uygur and of other ethnic minorities. It has also put on stage a few dance dramas and orchestra music performances with rich ethnic characteristics. In 1994, the Ensemble produced the large song and dance performance Rainbow of the Tianshan Mountain, which took part in the 4th China National Art Festival and won the Wenhua Award issued by the Ministry of Culture for New Program. Among them, Nusileti Wajiding won the Wenhua Award for Music, Dili Naer won the Wenhua Award for Good Performance. In 1997, the Ensemble put on stage a large song, dance and costume evening party When Taking the Wedding Lid off Your Head, which was invited to Shanghai to attend the Opening Ceremony of the International Music Festival. Rewapu Concerto My Rewapu, Uygur dances of the Ensemble Grape Picking and Sword Boy Sai Naimu were listed in the 20th Century Classics of Chinese Nationalities.
The Xinjiang Song and Dance Ensemble boasts a large number of music, song and dance artists. For instance, famous dancer Ayi Tula attended the 6th World Youth Festival in Moscow in 1957, when her Uygur Dance Classic Grape Picking was awarded the Gold Medal. Famous singer Paxia Yixia won the Silver Medal in the 5th Warsaw World Youth Festival with the song The Liberated Time. Famous young dancer Tuerxunnayi Yibulayin seized the Gold Prize in the 14th Havana World Youth Festival. Famous young dancer Dili Naer won the Gold Performance Award in the Osaka International Art Festival. In the 7th Peacock Cup Minority Nationalities' Dance Competition, Uygur dance Bowl Balancing Dance choreographed by famous dancer Hailiqiemu Sidike won the First Prize for Performance and Second Prize for Director; Sword Boy Dance performed by Mukas and Aska won the 2nd Prize for Performance. In the Lotus Cup Dance Competition which was held in Beijing in 1998, Bowl Balancing Dance choreographed by Hailiqiemu Sidike won the 1st Prize for Creation. In the 1st National Symphony Composition Contest, symphony music Homeland composed by famous composer Nusileti Wajiding won the First Prize.
Address: No.193, Shengli Road, Urumqi, Xinjiang Autonomous Region
Post code: 830001
Tel: (0991) 2861313    2872987
Fax: (0991) 2861312