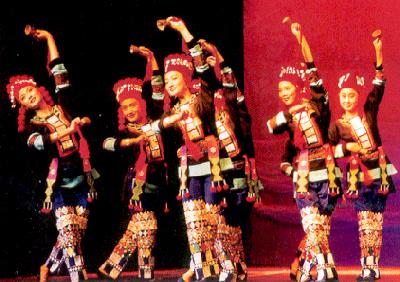 Song and Dance Ensemble of Honghe Hani and Yi Autonomous Prefecture
The Song and Dance Ensemble of Honghe Hani and Yi Autonomous Prefecture was set up in 1980, its former form being the Cultural Troupe of Hani and Yi Autonomous Region in Honghe.
Through long-term artistic practice, the Ensemble created and accumulated a large number of programs like the complete opera Dosha Apo; dance dramas Hunter's Song of Honghe, A Spark in the Western Hill, Apo Chairman Mao, Dieshi Suite. Drums of Transplanting Rice The Sliver Pheasant, Old Man and Get the Loaches Together; symphony Honghe Suite; violin solo Yilong Lake Capriccio, Obi solo Get the Loaches Together; songs Call the Moon, Village at the Border, A Little Pal of Hani; dances The Soul of Palm Tree, Seeing the Bride off, Girls in the Mountains and A Short Rest in the Field; song and dance piece Red Soil, etc.. The large-scale nationalities dance drama Fire from Yaoshan Mountain won contribution prize in the gala performance at the Fifth National Sports Games of Nationalities, 5 prize including the new repertoire and outstanding repertoire awarded by Yunnan Province in 1996 and 4 prizes including repertoire prize at the National Dance Drama Performance for Discussion and Emulation in 1997. Dance Biting Hand Love won 2nd prize of choreography, directing and acting at 7th National Dance Competition of Minorities for Peacock Award and dance Look, look won silver master piece prize at the 1st China Dance Competition for Lotus Flower Award. The dance drama full of ethnic minority humor Ballad of Yaoshan Mountain and the large-scale exposition of costumes and adornments of ethnic minorities sent to Hong Kong to participate in the 17th Asian Art Festival achieved complete success.
The Ensemble visited Japan, the United States, Canada, France, Germany, Portugal, Thailand, Singapore, Malaysia, Indonesia, Vietnam as well as Hong Kong, Macao and Taiwan regions for cultural exchange, lectures and performance. It is one of the professional performing art troupes from national minority areas and its great influence in the country is universally acknowledged.
The Ensemble has created a group of artists of older generation like Kang Shouhua, Zhu Ziguang, Li Zheng, Zhang Nan, Mei Bi, Xu Shifang, Liang Baolu and has bought up many young and middle-aged artists like Wang Jiamin, Guo Changfeng, Chen Jinlai, Yang Guorong, Li Shuwen and He Jun.
Address: No.69, Qingnianlu, Gejiu, Yunnan Province
Post code: 661000
Tel: (0873) 2124274
Fax: (0873) 2122368