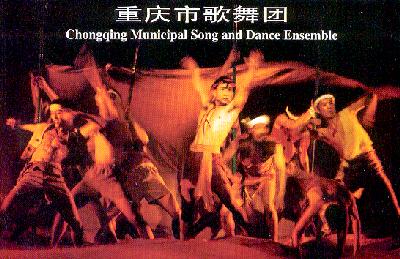 The Chongqing Municipal Song and Dance Ensemble was set up in 1956. Since its founding, the ensemble has staged many excellent music and dance performances including dance Dragon Dance, Sunflowers, Two Hoes, Letting Mr. Pei Escape, Silver Prize winner of the Sixth World Youth Festival, Happy Workers, Xinhua Newsboys, Little Radish, Sunset at the Red Rock, Red Rock Spirit, News from Hometown, Love Song at Kangding, Boat Towers, Soldiering On, Torch Festival, all winners in contests at different levels.
The large-scale dance drama Sacrifice to the Three Gorges, choreographed by Ning Yongzhogk, won the Fifth Wenhua New Drama Award, Choreography Award and Best Actor and Actress awards.
The ensemble was once invited to attend the opening ceremony of the World Cup Boxing Championships. Since 1984, the Ensemble has toured the United States, Myanmar, Japan, France, Russia, Singapore, the Philippines and Hong Kong and Taiwan regions.
The ensemble has fostered a lot of senior artists such as composer Guo Wenjing and Zeng Fanke; music critic Ye Yu; playwright Song Qingtaop; conductors Chen Gang ang Cao Yanbin; pianists Qiu Lingyi and Jing Zongmo; dancers Wang Jing, Ning Yongzong and Song Qingji; brilliant young dancers Li Zhijun, Xia Yanghong, Yang Liu and Duan Bo; vocalists Zhou Yunhua, Cheng Changfu, Li Danyang and singer Hu Shanhong; violinist Chen Yaocan and Xun Daxian and flusist Xie Gaoxiang.
Address: No.71, Huahui Xiyilu, Songshuqiao, Yubei District, Chongqing
Post code: 401147
Tel: (023) 67613518
Fax: (023) 67613518